Stock Control System: Ensures constant supply in your warehouse
Correct order and stock management is one of the main factors that affect company performance and profits. Therefore, it is essential for companies to have a well-managed and controlled inventory.
If you are looking for a WMS capable of perfectly helping you with the stock management of your warehouse, pay attention to all the information that we provide here.
What is a stock control system?
In order to properly manage stock, it is fundamental to carry out a regular and comprehensive inventory of all the products that your company owns, indicating the available quantities of each one.
Given that the number of sales will not necessarily be predictable, a minimum level of inventory must be maintained. That way you can avoid the dreaded stock disruption with the consequent loss of sales. Likewise, you should not overreach by acquiring excess stock, unless there is equity and storage space, in addition to the assurance that the products will be sold.
To carry out inventory control there are powerful tools in the market that can facilitate the task. This is just one more aspect of the digital transformation that all companies and industries are conducting. The most suitable software for each business will depend on several factors, such as the type of products it sells or the volume of transactions it makes.
What benefits does SGA software have for stock management of your warehouses?
Using an SGA software to help you with warehouse stock control has all these advantages:
Optimise the level of customer service
Reduce the loss of sales due to lack of merchandise and generate greater loyalty to your company.
Improve the cash flow of your store and your business
Purchasing more effectively and having greater inventory turnover means your money will be moving rather than sitting in your warehouse.
Identify seasonality in your products
Which will help you plan better.
Easily detect slow-moving or stalled items
To develop strategies to get them moving easily.
Monitor product quality
By having them well supervised and identified.
Recognise theft, product loss and shrinkage
Optimise and free up the space in your stores
Increase profitability per square meter.
Control entrance, exit and location of merchandise
As well as requisition of merchandise, for more professional management of your warehouses or storage rooms.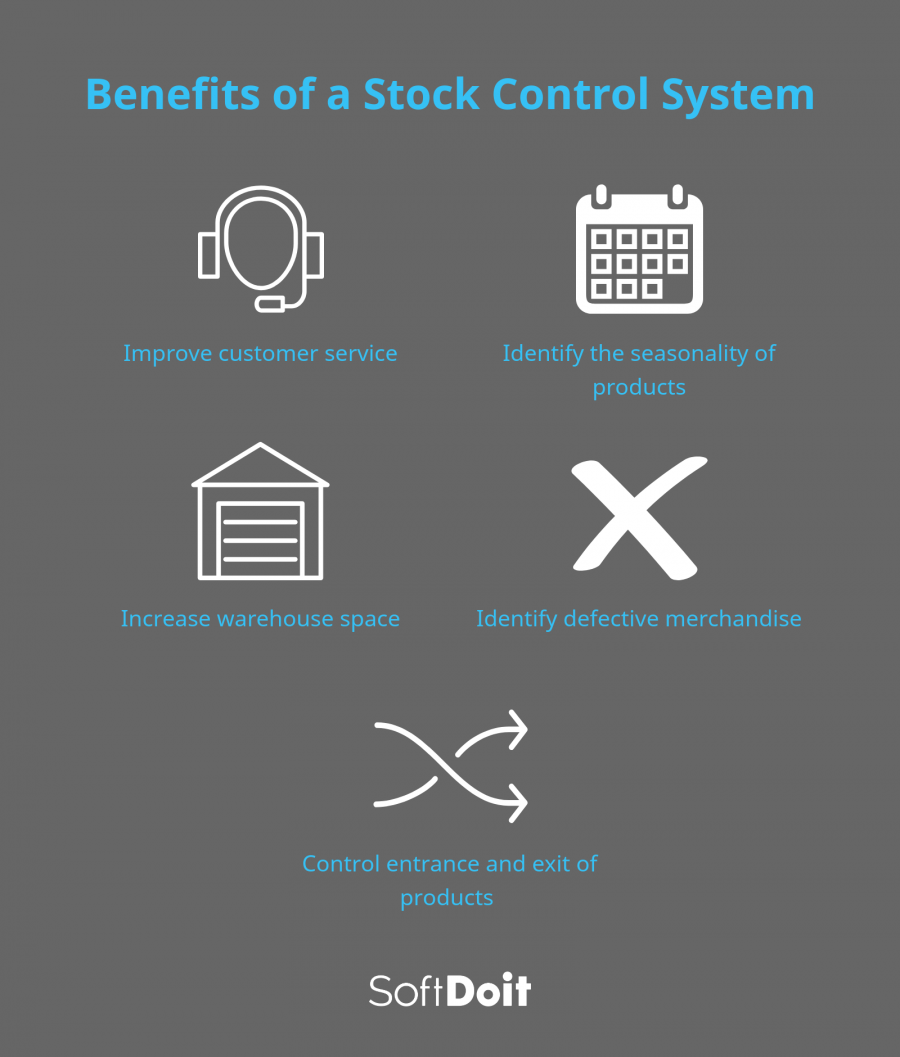 Functions of stock control software
When the competition is very strong, companies cannot afford to have money held up in the form of stock in their inventory, nor be unable to offer excellent customer service by having short supply. The goal is to achieve the balance between supply and demand, and have reliability from your supplier for the receipt of merchandise, as well as in delivery to your customers.
These are some of the features of an SGA software that will help you achieve the perfect balance:
Structure of the product catalogue by groups. This allows you to organize them by their origin, manufacturer, use, etc.
Differentiated measurement units for purchases and sales
Stock recount by barcode scanning
Management of inventory through lots, barcode, expiration date, colour, size or serial number. You will have complete traceability of an article thanks to these elements
Notification of products that are nearing the expiration date or low stock levels
Complete file of the article, including its picture, that allows you to access the manufacturer's website or obtain a document with technical characteristics
Multiple price rates. Create a personalised rate showing only the items of a particular provider
Automatic loading of supplier price rates, from Excel files supplied by them, with the effective date of said rates
Multiformat barcode (EAN13, EAN8, CODE 39, CODE 128 'A-B-C')
Mark an article as inactive, obsolete or withdrawn, without affecting the statistics of previous years
Composite articles, consisting of one or more articles (raw materials, semi-finished articles), and tasks necessary for their manufacture
Locate the item in the warehouse plan. This allows you to issue warehouse orders with the exact location of the article
Get your free ranking with the best software for stock management
Lean on a good technological solution capable of maintaining optimal stock control of your warehouses and you will see how it will generate a significant competitive advantage over your competitors.
Would you like to get yours in the shortest possible time? Leave the search up to us. Fill in the comparator form and we will contact you to refine the search as much as possible. In a few minutes, you will receive a list of the solutions that best suit your requirements. What are you waiting for? The SoftDoit comparator is 100% free, neutral and personalised. Over 35,000 companies already have their ranking!