Picking software for the management of your warehouse
Picking is usually one of the most critical points of the order preparation process. The more you optimise it, by making the picking flow an orderly process and using technology that will help you quickly locate each product, the better the results will be for your business.
Nowadays, there are more and more companies whose work takes place in a warehouse that require the use of a good tool or picking software, because trying to manage a warehouse without proper software is a crazy idea.
What is picking software?
A picking program is a tool that is responsible for managing the preparation of orders in a warehouse, which consists of the collection and combination of the individual items that constitute a customer order. That is, it collects the packages, parts and products to continue to the final preparation of the order for shipment.
There are different types of picking technology:
Visual picking
Voice picking
Radio frequency picking
Pick-to-light
With the use of a warehouse management system (WMS) with picking capability, you will be able to optimise the routes of the operators through the warehouse, the preparation of orders by surges, and speed up the replenishment of stock.
What can a good order picking system offer you?
Amongst the many features that you can discover with an WMS for the management and preparation of orders, you can find the following:
It increases the productivity of all operations by optimising routes and spaces
It fulfills intended loads and packages
It reduces replenishment waiting time, sending orders directly to the mobile terminal of the operator; in this way, you don't need to travel from one place to another for each operation and all your routes are productive
Warehouse counts are automated and direct, saving time and increasing productivity
The software makes it possible for picking to be conducted according to needs (goods to man, mass extractions, several goods to man, etc)
It reduces the routes in the replacement of products, and therefore, the displacements are optimised
Errors in preparation are significantly reduced
All the advantages of using picking software
Poor order preparation or the poor planning of dispatches from your company can lead to a reduction of profit margins, since you could be forced to increase the workforce in the warehouse to process more orders and improve delivery times.
However, optimising the picking process is a clear benefit for your company: not only does it make the task of order prep more efficient, but it reduces costs considerably. In the same way, operators will be able to handle orders more quickly, and your clients will be much more satisfied with their purchase.
In short, you can benefit a lot from using picking software in your warehouse:
Optimisation of operations
Improved productivity: better use of space and resources
Improved efficiency: achieve your goals with fewer resources
Monitoring, planning and full implementation in real time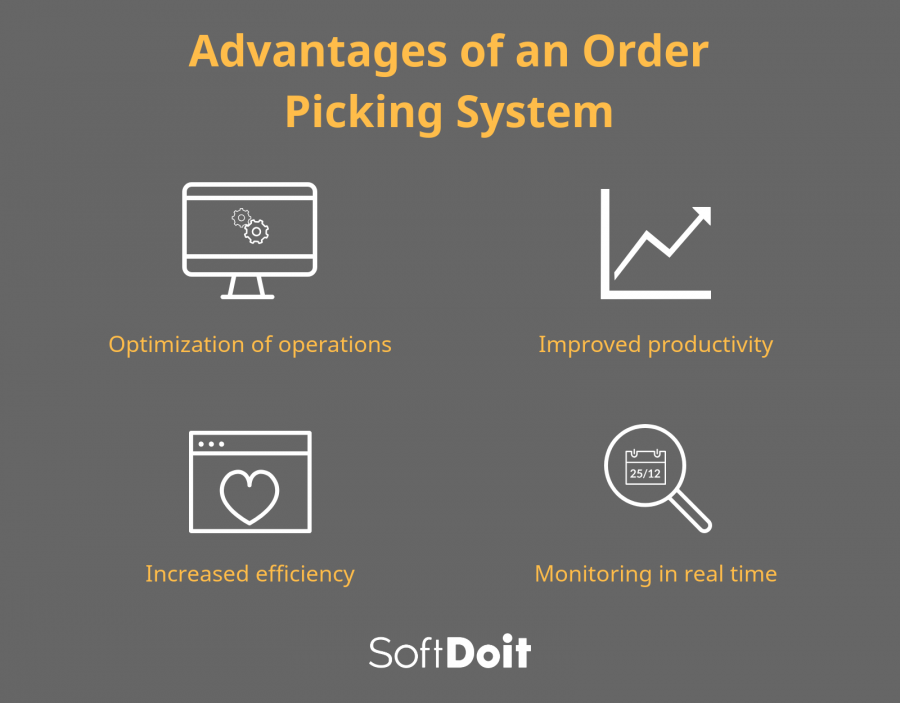 Need help finding the perfect order picking system?
The warehouses of large companies require powerful tools (both staff and computer solutions), but small companies must also stop to think about how to optimise the process that begins with each new order.
If you need picking software that meets the demands of your business, we can give you the solution. To do this, you just have to complete the form above with the characteristics of your company, and SoftDoit will create a comparison between over 400 programs to find the one that best suits your needs. In a few seconds, you will receive a ranking in your email.
Our service is completely neutral and free. What are you waiting for to try it out?