If you have a company that has continuous entry and exit of stock, you have already noticed that the warehouse is one of the most important elements of your company and deserves to be treated with great care and commitment.
Technology gives us great opportunities for growth today, therefore it is important that you are progressively incorporating it into your company, since good warehouse management is not just being able to locate a specific product quickly in order to deliver it to the consumer in record time; it also involves knowing when it is necessary to order a range of items from the supplier.
The use of warehouse management software often depends on the size of the company, since for a company that has just started and has a small warehouse, it may still be appropriate to manage products through spreadsheets. However, as the company grows, conducting the management of the warehouse becomes chaotic, especially in times when the turnover of items becomes very high. Are you thinking that maybe it's time to get WMS software? At SoftDoit we want to tell you about the 5 best benefits of using a good warehouse management system.
Let's start at the beginning: What is WMS software?
Before learning what the benefits of WMS are, you need to know exactly what this type of software is and how it works.
WMS means "Warehouse Management System." You may also hear about the WM (Warehouse management) module as part of an ERP system.
In short, it is the system responsible for warehouse operations, and offers functionalities and interfaces (whether on a computer or through other mediums: radio frequency, voice...) that allow all the operational tasks of a warehouse to be performed, and maintain the entire information flow of it.
Essential functions of WMS
The main essential functions performed by any WMS are:
Management of tickets: reception, logistic data capture and labelling of containers and merchandise.
Location management of the cargo units: location management through rules and strategies, cross-docking and the management of the replacement and reinformcement.
Stock control management: display of the warehouse map, location management, counting and inventory.
Exit control management: load preparation management, picking processes, expedition labelling, etc.
5 Key benefits of WMS
Warehouse management has multiple effects at different levels in the operation of the company. If we had to summarise its main benefits, it would be the following five:
1. Space optimisation
Have sufficiently adequate space for the volume of business that the company carries out. To do this you need to identify each area and recognize the best use for it. Therefore, everything must be perfectly marked and prepared for its correct use.
2. Use of the cross-docking technique
Make use of the cross-docking technique: the main objective of a warehouse is that the product remains within its facilities for the shortest possible time. To do this, cross-docking is the technique that reduces the time a product spends inside the warehouse, possibly never even having to place it on the shelf.
3. Management of scheduled deliveries
It is very important to have control over what is going to enter the warehouse. Therefore, it is important to know in advance when deliveries will be made and what items will be delivered. If this management is not carried out, it ends up leading to a lack of stock (something very common in a large number of companies).
4. Grouping of the products by logistic families
There are certain products that are usually managed in the same way. For these types of products, it is best to have them in the same area, for faster and more efficient management. A good WMS software will not only help you with the product grouping, but it will make it easy to locate them afterwards.
5. Manage the performance of each employee
If you measure the time it takes an employee to perform a task, you can analyse their productivity, quality and efficiency, and therefore, detect where improvements can be made to become more efficient in each process.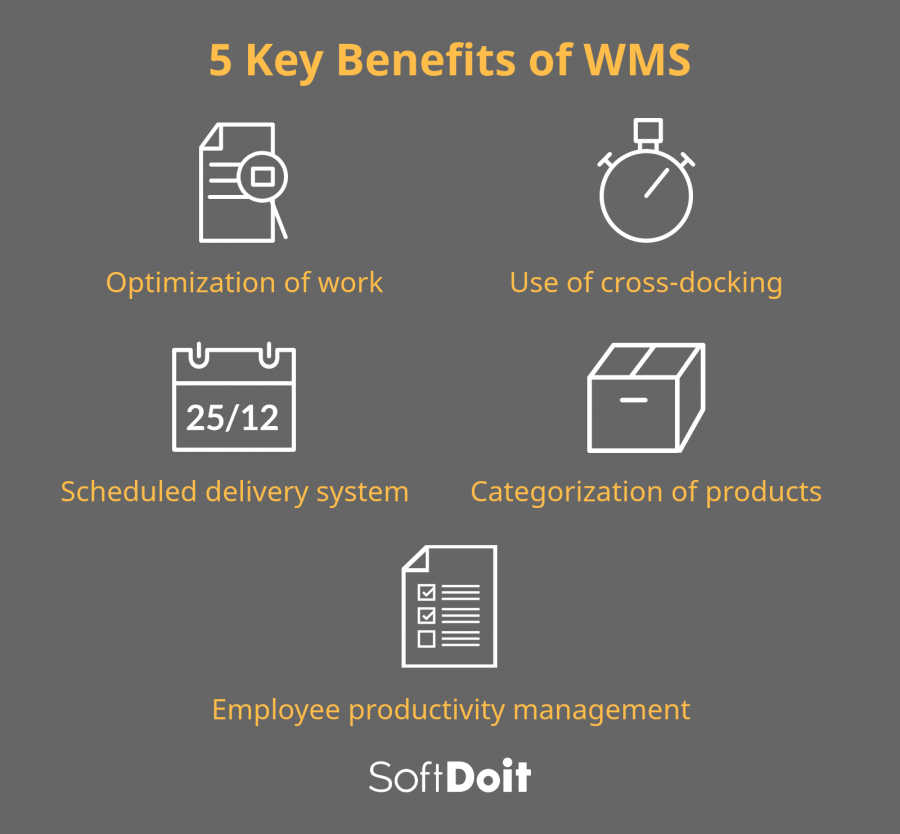 What is the importance of optimising your warehouse through WMS?
The use of this type of software enhances the effectiveness of the activities that are carried out daily in your company's warehouse. That is to say, these warehouse management software minimises any errors that could be made, and consequently, it is possible to increase the reliability of your service. 
You should not see these systems as unnecessary expenses, but rather as necessary investments to boost your company to a higher level. After all, the warehouse represents a fundamental pillar of your company.
Would you like to easily get a ranking with the best software solutions?
Now you know what WMS is and the benefits of using it. However, there is a wide variety of software solutions on the market, and it can be difficult to find the one that best suits your company. If you want to find out what warehouse management software best suits your business, all you have to do is use the SoftDoit comparator. Fill in the form on this page and you will get a personalised ranking with the most suitable solutions to manage the logistics processes of your company and optimise the space of your warehouse. Don't forget that our service is completely free and neutral!