Quick Guide: Improve Food Traceability with Software
For those of you who work in the food industry, you will know that the concept of traceability is relatively new, and that it has been used by companies and suppliers for only a few years. With its arrival, the plan was to equip the food we consume every day with much more information. Thus, the ability to find and track products at any stage of their production was created.
For this reason, food traceability software is useful to find and follow a food product easily, quickly and efficiently, and in this way, be able to track its history.
In this post we want to offer you a quick guide so that you understand the operation of this system with professional software and therefore improve traceability in your company.
Why food traceability software?
Using traceability in the food industry facilitates the removal of any product from the market, since through the software, you can locate its origin. If a risky situation with a certain product were to arise, it would be possible through traceability software to identify the origin of the issue in its production, recover the products for sale, or block their distribution.
Another utility of the software is that it allows the consumer to know relevant information, which in turn increases trust in the product.
This software contributes to the improvement of production quality control production, and this also generates trust amongst sellers.
Improve food traceability through professional software
When a company in the food sector decides to implement a WMS solution, it expects to find the necessary modules to carry out its daily tasks, in addition to those specific to the industry.
A good food traceability software, adapted to your needs, can improve the traceability of your company´s products considerably. Do you want to know how? Let us explain:
Gain agility and efficiency
Good software will allow your sales team to work with multiple sales channels at the same time, so that their prolonged use will reduce the tasks and administrative resources with which orders are managed. You can generate offers, planned orders, delivery notes, documentation that will be sent to the customer, exchanges of different data, etc. All this information, can be made and reviewed online, allowing you to take full control of each order (both the receipts and shipments) at any time. The solutions that help the mobility of food products have become indispensable tools to increase the strategic and competitive capacity of any business.
Gain flexibility in manufacturing
By using professional software you can issue manufacturing orders and automate purchase requirements. Starting from master tasks or commercial forecasts, considering the logistical or productive requirements, you will obtain automatic calculations of production requirements, and purchase orders are generated. Additionally, you will know and automatically analyse the costs of each production phase, eliminating inefficient areas and increasing the profitability of the company. This whole process is also flexible to changes that may occur by modification, introduction, or cancellation of manufacturing orders.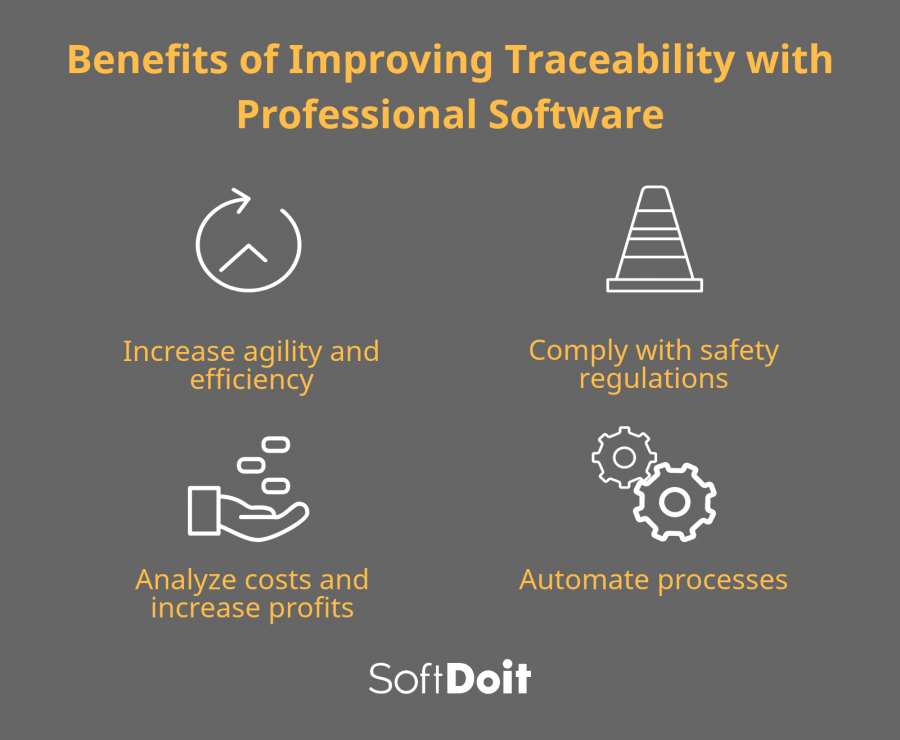 The more processes and documents are automated, the more optimisation is achieved. Automated process management favours compliance with all established objectives and requirements. By means of a food traceability software, many activities will be initiated automatically if the solution is pre-programmed, thus generating faster and more efficient processes.
The processes related to traceability, safety, quality, and hygiene are the most appropriate to integrate into an automation system, as this is will greatly help ensure compliance, improve management and avoid errors.
In short, when you decide to select food traceability software for your company, with the intention of improving it, the best advice that we can give you at SoftDoit is that you should look for one that helps you manage the whole process in a comprehensive manner, always according to quality control regulations. In addition, if your software belongs to the famous cloud systems, all the better, since you avoid investments in licenses and maintenance amongst other costs, besides improving the possibility of access from anywhere in the world.
Comply with food safety regulations
As we have been commenting throughout the article, food traceability is undoubtedly essential for all companies in the food sector. For its correct management, it is carried out in three levels:
1. Backwards traceability, offering information on the origin of the products.
2. Process traceability, providing information related to the moment in which the products are divided, changed or mixed, the product that is generated from them, or the identification of the final product.
3. Forward traceability, offering information related to the person to whom the product has been delivered (who, what and when).
Food traceability is not well managed if we do not take care of quality. Both concepts must always go hand in hand: through traceability, you will be able to know any incidents or issues and take the appropriate actions to correct the risk situation, such as removing lots, making returns, carrying out inspections, etc.
The whole process must go through quality controls, and the professional software will allow the operators to carry them out.
Find your food traceability software now
Traceability is an essential matter for any business that carries out its activity in the food industry, either as a producer or as a distributor. If you want to get food traceability software adapted to all your needs, we can bring you closer to the solution. All you have to do is complete our form and in less than two minutes you will get the SoftDoit ranking with the most suitable programs for your company according to their characteristics.