Textiles are products of mass consumption that are sold in large quantities, therefore they hold significant importance in the world economy, generating a large number of direct and indirect jobs. At the same time, it is a very competitive sector where there is a need to produce good quality and at low costs. Hence, it is increasingly important that textile companies turn to the use of specialised software for textile companies, with the main objective of improving business management and production control.
Nowadays, companies in the retail sector must be increasingly competitive and focus on providing their clients with a unique experience. So, with the advancement of technology, it is no longer acceptable to waste time on mechanical tasks or manually manage warehouse tasks, inventories, and business analysis. Do you want to know how to optimise your resources to get the best results? Keep reading to find all the information about this type of solution.
Main characteristics of textile management software
A textile software facilitates the management of all the processes that are carried out in product manufacturing. Some of the main characteristics of a tool for this industry are:
Control of garment production
Management of tasks in external workshops
Stock control and warehouse management
Management and tracking of orders
Textile software functions
With a management program you will complete the production of your clothes and accessories on time and offer the best service to your customers. Some of the modules you can find that facilitate this include:
Purchases
Control the purchase cycle by size and color in an integrated manner. Generate purchases automatically according to the needs of your business and through automatic replenishment processes. Additionally, it includes merchandise labelling and bar coding reading capabilities.
POS sales
Through the POS function, specific for the textile sector, streamline processes such as the sale and return of garments in an intuitive and visual way. You can also include pre-order options, vouchers, rebates, an alteration module, etc.
Warehouse
Manage stock by price, size and colour, model, warehouse location, and more. Organize product images and automatically generate catalogs, etc.
Customer loyalty
Improve the relationship with your customers and reward their loyalty with a complete system to help you provide the best service. In addition, you can track each of your commercial activities and strengthen your customer base.
Analysis
You can streamline decision making if you use the software analysis option: examine the information and results by models, stores, vendors, etc.
Additional modules
There are a wide variety of modules that facilitate the management of your business: schedule management, layout of merchandise in a store, graphic tools, analysis of product surveys, etc.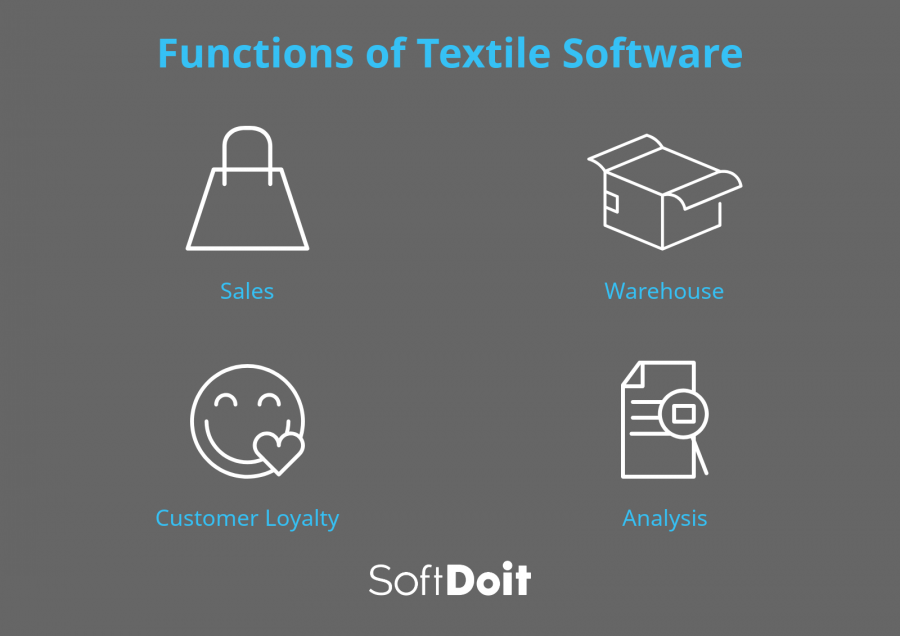 Advantages of using management software in textile companies
Amongst the multiple benefits offered by management software for the textile sector, the most notable include:
Control of stock in real time
Advanced management of industry-specific processes: preparation, spinning, weaving, dyeing, etc.
Complete traceability, from the manufacture of an order to its delivery
Improvement of the final product thanks to advanced quality management
Total supply chain control
Reduction of production costs and delivery times
Anticipation of demand thanks to management software for companies in the textile sector
Order your free ranking now and discover the ideal textile industry software for your business
Now that you know the most important features and functionalities of textile software, you may be thinking about searching for one for your company. Finding a program that offers exactly what your textile company needs is not an easy task. Additionally, you can lose a lot of money in the attempt. SoftDoit compares over 400 different solutions to offer you a ranking with the software that best fits what your business needs. Over 35,000 companies have trusted our service. Don´t think twice; fill in the form. It's fast, neutral and free!