Get the best store management system for your business with our free comparator
The sales and distribution industry is increasingly competent, so it is crucial to use a store management system that allows you to maximise the performance of your business. A software for commerce is essential to manage the activity of your store efficiently and provide exceptional quality care to your customers.
What are the most important functionalities of a program for store management?
Whether you work in a mall or supermarket, or if you work in retail or wholesale, a store management system will be very useful. With this program you can control all the daily activities of your business from a single platform. Some of the most notable features offered by a software for commerce are:
Manage sales and presale in a simple way
Simplify the reception of products and the preparation of orders
Create and manage a catalogue with detailed information about the merchandise
Generate statistics on a regular basis to know the status of your business
Retain customer loyalty by sending discounts and promotions
Protect company data through access codes and identification systems for employees
Access store information and manage your business from anywhere
What benefits does a management system offer to your store?
If you want to maximise the sales index and increase the satisfaction of your customers, you will have the necessary functions to achieve it with a software for stores. A tool designed for commercial management has many advantages such as:
Streamline all the daily operations of your store and improve customer service
Manage cash desk closing more effectively to avoid mismanagement
Coordinate shifts, sick leave and employee vacations
Obtain information about the best-selling items or services to identify new business opportunities
Take control of all the movements on your premises
Organize the products in the warehouse to facilitate the search process
Make multiple orders to different suppliers at the same time
Analyse the effectiveness of marketing campaigns, advertising and special offers
Track customer relationships and access their purchase history
Automate the management of the entire purchasing and sales cycle
Review the expiration of perishable goods and guarantee their quality
Control both the entry of items, and the shipment of goods
Offer different payment methods to inspire confidence in your customers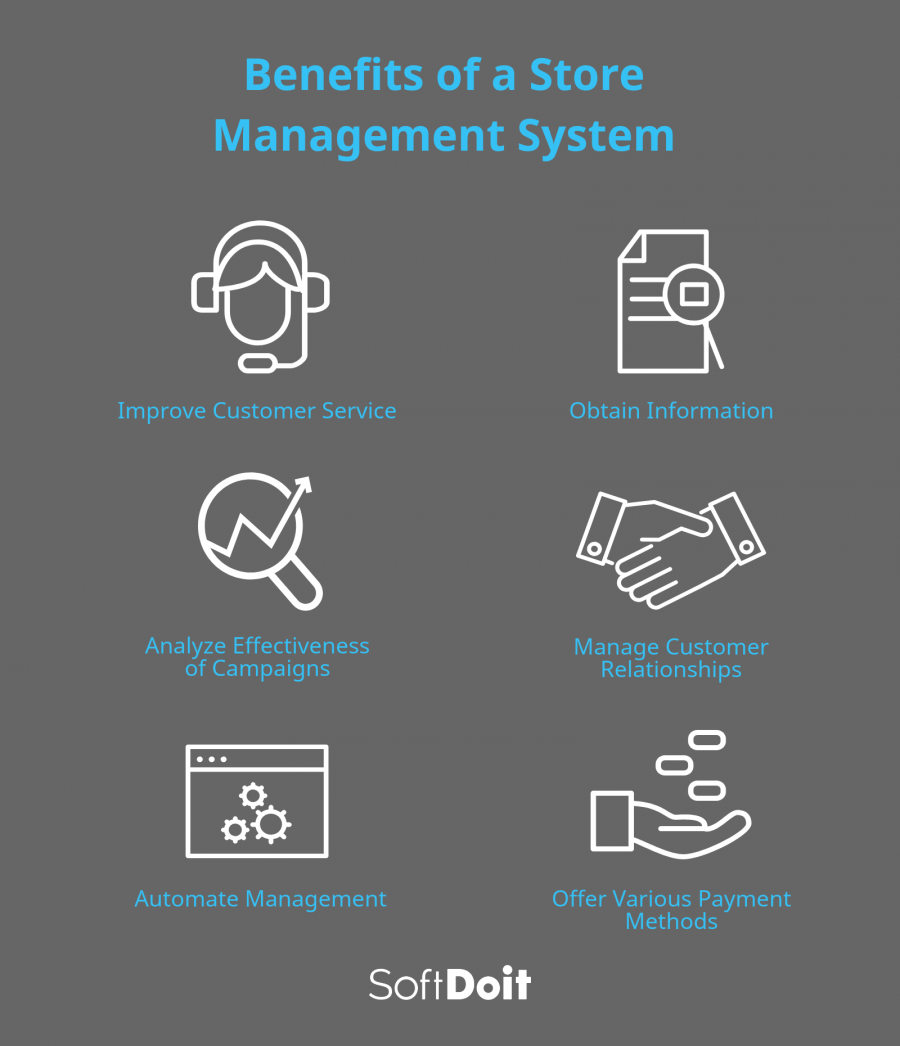 Reasons to use store management software
As we mentioned in the previously, a system specifically designed for the store management provides multiple advantages. Here are the main reasons why you should use a management solution for your business:
Streamline work
Process automation allows more agile work to respond more quickly to customer enquiries. In addition, you will avoid duplicating tasks.
Update your business
Technology is increasingly present in the current environment, so using computer tools will improve insight into your customers and help you to be more productive.
Keep track of sales
A software for stores allows to do a detailed follow-up of the sales volume. In this way, you will know the state of your business and will be able to detect business opportunities and points of improvement.
Improve customer service
This tool will allow you to retain your customers in a much simpler way, being able to provide excellent service and manage your database correctly.
Manage the stock
With the implementation of this type of program you can monitor the number of products available, as well as the inputs and outputs of the items in the warehouse. In addition, you will know when it is necessary to replenish the inventory, by receiving alerts whenever stock levels are too low.
Optimise the management of employees
You will be able to take full control of all processes related to shifts, wages and vacations of your workers to anticipate any unforeseen circumstances.
Compare for free and find the best solution for your store
As you can see, a store management software will help you to integrate all the areas of your business in a single application and detect opportunities to increase revenue. With this system you will be able to offer a more agile and higher quality service to your clients. Go ahead and discover the program that best fits with your sales or distribution centre.
Complete the web form with the characteristics and activity sector of your business and in just two minutes you will get your personalized comparison. The SoftDoit comparator analyses over 400 solutions and selects the ones that really adapt to your company. You will succeed in choosing your new program and save hours of searching and money. If you have not tried it yet, what are you waiting for? It´s free and neutral!