Professional service companies face a series of constant challenges, such as: effectively managing each process in the company, maximising customer satisfaction, and connecting team members with customers and suppliers, or external collaborators. These organisations need tools to manage their strategic objectives, improve utilisation, reduce billing time, etc. That is why the use of Professional Services Automation, or PSA software, may be the best solution.
Do you want to know the characteristics of a good program for professional services? Would you like to know the benefits of its use? Are you interested in acquiring a specific software for your professional service company, but do not know which one to choose? At SoftDoit, we can give you all the answers.
What is Professional Services Automation software?
PSA software is a solution that helps companies to manage daily functions such as project management, service sales, management of business opportunities, accounting, accounts payable or taxes, management of the purchasing department, sales and after-sales, economic and financial aspects, and quality control, amongst others.
The most common businesses that refer to professional services are:
Brokerage firms
Private security
Insurance companies
Cleaning services
Workshops and small factories
Maintenance and repairs
Air conditioning and plumbing
Possible challenges of the sector to be met through PSA software
Professional service companies often face challenges that they are forced to meet, but without the necessary tools it can be difficult to reach them. PSA software for service professionals can help you overcome any difficulty or challenge that may arise in your company's daily activity:
Determine the resources needed for each task
Define deadlines for each project
Make decisions with less risk, faster
Manage several projects simultaneously to cover all requirements
Adjust the tasks to meet the objectives of each project
Satisfy innovation demands with the best practices and methodologies
Develop solutions that improve the life cycle of your projects, products and services
Build stronger relationships with customers and be more competitive
Better monitor information about your company and the market
Some of the functionalities of a professional services software
If you have a company dedicated to the professional services sector, surely, amongst your goals, are to grow income and benefits, deliver projects on time, get a better view of your business, and offer a superior quality service. They are natural goals within any company, but not always possible to achieve. A PSA system has all these functionalities to achieve your goals:
CRM and Sales Management
Manage relationships with your customers, from initial contact to collection. You can also make offers and budgets with a professional appearance in a few minutes, add your company's logo and send them via email. Follow the status of the offers and know the chances of success to focus on those which are most important.
Project management and its profitability
You can control the profit margin of multiple projects. Monitor in real time the costs of labour and materials of the work done by your workers and subcontractors.
Service and operations management
Plan and manage all work orders. Easily plan the pending work by allocating the necessary resources, so that workers can see the work assigned from their mobile phone and designate the time to do it. Obtain, in addition, a complete real-time image of the status of work orders.
Billing and treasury
Automate billing of the work performed. Send invoices via email. Control collections and payments, and enable your customers to easily make partial payments.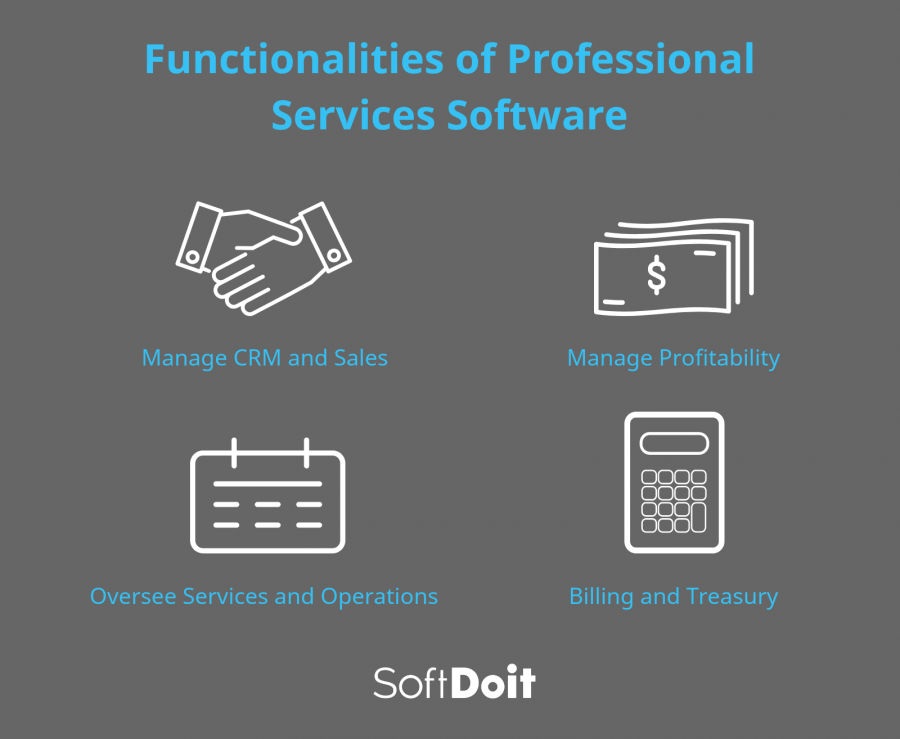 What advantages does a PSA system provide?
A professional service software will help you manage all your projects and guarantee the best service for your clients, whether they are companies dedicated to maintenance, installation, technical assistance, consulting, architecture or construction. This solution has the following benefits and functionalities:
User-friendly
Classify the different services by rates, benefits, or dates on which they are made
Possibility for cloud-computing
Manage accounting and billing
Control the stock of essential materials for each service
Issue gift cards, promotions, and offers to retain customer loyalty
Track each client through email marketing campaigns
Automate the management of resources, personnel and budget to increase profitability
Share projects with other areas of the company
How do I get my free comparison of the best PSA systems?
If you want to obtain your personalised comparison you can fill in the questionnaire located at the top of this web page. In a few minutes you can receive our ranking with the three most viable options for your company. We will advise you for free in your search for the best professional service software, having made an analysis of over 400 suppliers from our database. There is no time to lose! Over 35,000 companies have benefited from our service and have found the perfect software for their business.