Balancing demand and production capacity, reducing inventory costs, and properly managing the warehouse are some of the daily challenges for industrial companies. With software for the industrial and manufacturing sector, you will be able to optimize your business processes. With a solution like this, you can also plan the management of the different manufacturing plants more efficiently and speed up the delivery times of the products.
When selecting a program, you should know that not all of them adapt equally to your company. The search for software that meets the true needs of your company can involve a large investment of time and money. But with the 100% free and neutral SoftDoit comparator, you can find the best manufacturing management solution for you.
What are the main functionalities of a program for manufacturing and industry?
Software for the industrial and manufacturing sector is crucial in order to have absolute control of all production and distribution processes. Additionally, it will allow you to work with more synchronicity with the rest of the team and reduce the time dedicated to each task. These are some of the most important functionalities of an industrial solution:
• Manage the supply chain more optimally
• Visualize the volume of orders and guarantee their fulfillment, adhering to fixed delivery times
• Keep an accurate record of available stock in the warehouse
• Apply the Lean methodology to improve the company's results and eliminate waste
• Plan production and keep the material and personnel costs for each task under control
• Obtain analysis and statistics to improve decision making in the future
• Manage employee schedules based on their availability
• Resolve incidents with distributors and customers more effectively
Modules that make up industrial and manufacturing software
Software can offer multiple opportunities for any type of business. In the case of industrial and manufacturing software, these are some of the most common modules that can be integrated in this kind of system:
Financial management
Registers financial transactions, manages internal cost accounting, controls expenses, etc.
Project management
Provides greater control over programming, resources and financial aspects of short and long-term projects.
Production
Manages resources to achieve greater efficiency in operations.
Supply chain management
Allows the optimisation and automation of business processes throughout the supply chain.
Human Resources Management
Precisely controls all the processes required for the management of your workers.
Client management
Offers a greater capacity to build customer loyalty through the organisation and connection of people, information and processes.
Technical Assistance Service (SAT)
Increases the quality of customer service, offers personalised attention, and enables incident management.
Discover the most notable benefits of using industrial software in your company
Optimising all operations and centrally managing each of the departments of your business is possible thanks to industrial and manufacturing software. Here we highlight some of the main advantages offered by this type of solution:
Get relevant information about the business situation to streamline decision making
Match demand to manufacturing and distribution to minimise costs through Lean manufacturing
Guarantee compliance with the stipulated delivery times
Avoid stock breakages and interruptions in the production chain
Integrate the management of different areas of the business under a single system
Increase the competitiveness and profit margins of the company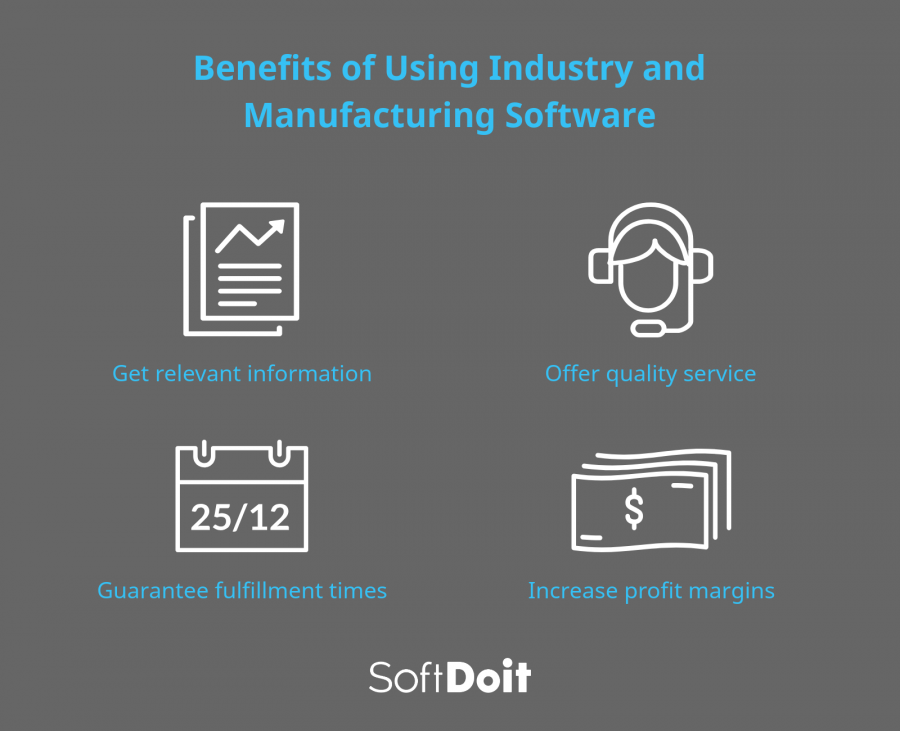 Get your free ranking now with the best manufacturing solutions for your business
Depending on the activity sector of your company, you will have to account for certain needs. If you want to find out which industrial software is the most suitable for your specific industry, use our free comparator and clear up any doubts now!
Complete the web page questionnaire and in less than two minutes you will obtain a personalised and unique ranking with the most suitable manufacturing solutions for your company. You will discover the ideal tool to optimise all manufacturing and distribution processes, so you can start to optimize your business. Are you going to let this opportunity pass you by? Don't forget that using our service is completely neutral and free!