Find the best payroll software for your company
Managing employee payrolls is a complex task, which often means a great loss of time for companies. Therefore, more and more companies use tools to help them carry out these procedures and face the continuous legislative changes.
Payroll software is an essential piece to simplify contract management, social insurance and the salaries of your employees. Thanks to this software you will be able to streamline a significant part of the human resources department operations of your company.
However, finding the ideal labour management software is not an easy task, since it is essential that it be completely adjusted to the specific requirements of your company. To simplify the search process, at SoftDoit we offer you a 100% free and neutral comparison with the solutions that best fit your company.
What is payroll software?
A payroll management program is a software designed to facilitate the tasks of those in charge of managing the employee payroll. These solutions reduce errors and maximise productivity in the execution of these administrative processes. In addition, this software is a great tool to ensure compliance with legal and fiscal regulations.
What is a payroll solution for?
Many companies are still unaware of the enormous loss of time involved in controlling employee payroll manually. Payroll software will help you manage employee salaries and social insurance more efficiently. With labour management software you will maximise the productivity of those in charge of controlling the payroll of the company. Some of the main functionalities of this system are described below:
Create and manage files with employee information
Calculate the net salary of workers instantaneously
Define the payroll according to the type of working day, holidays, overtime or sick leave of employees
Issue payrolls electronically, safely and effectively
Speed up the sending of extra payments and settlements to workers
Carry out the liquidation of taxes and social insurance in a simple way
Manage administrative and labour processes, in accordance with the legal and fiscal requirements of each country
Obtain the registration of employees, payments and dates of entry and withdrawal
Access the history of the last transactions and the rest of the operations carried out
Track employee medical leave, strikes, vacations, etc.
Main benefits of payroll management software
According to the SoftDoit annual report on The use of software in Human Resources departments, 88% of companies have specific payroll management software. This is due to the multiple advantages that this type of solution provides to companies, such as:
Simplify the management of salaries and wages
Save time in most administrative processes
Protect company information and guarantee the confidentiality of employee salaries
Minimise errors and incidents, thanks to the automation of processes
Minimise operating costs and have greater control of workflows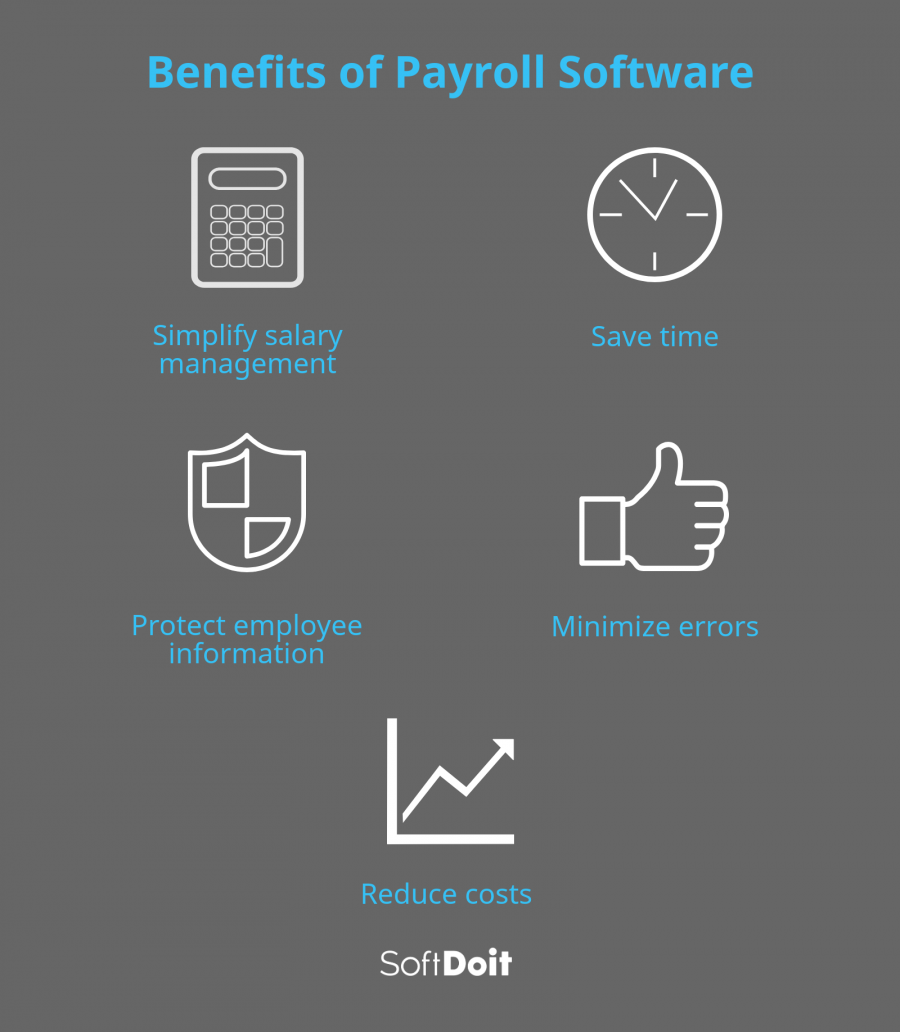 Advantages of deploying cloud-based payroll management software
Although many companies continue to host their solutions on internal servers, an increasing number of people rely on the cloud to store their payroll software. By implementing an online labour management software you will have access to employee data anywhere at any time. In addition, you can connect the software with your bank to make the relevant payments. What´s more, you will have the option to make backup copies and create passwords for all users.
Discover the ideal software to manage the payroll of your employees
With a labour management software you will increase the productivity of the human resources department and comply with all legal regulations. But as you well know, not every solution will adapt to the needs of your specific company.
At SoftDoit we help you find the best payroll software based on your requirements, thanks to a personalised comparison. You just have to indicate the characteristics of your company in the questionnaire of the page, and you will get your free ranking. Don't wait any longer! Over 35,000 companies have already found the ideal software to manage the payroll of their employees. Fill in the form as soon as possible!