Find the best holiday management software
Human capital is a key element for the proper functioning of any business, so it is crucial to keep absolute control of the absence of your staff. Holiday management software will give you a total overview of your employees' leaves and vacations. With this software you will obtain detailed information about your employee absences and you will be able to organise according to their availability.
Each company has its own characteristics and schedules, since it is not the same to work in a cafeteria as in an office. It is very important to consider these factors when choosing a solution to manage staff vacations. In fact, over 60% of companies choose the wrong software by not considering all of the necessary aspects.
At SoftDoit we provide you with a free ranking with the management software that best fits your company. Simply fill in the questionnaire that you will find on this page with the basic information about your company and your preferences. In a matter of minutes you will get a personalised comparison with the most suitable options for you.
What is vacation management software?
Vacation management software is a very useful tool to organise the holidays and absences of the employees of your company. Thanks to this program you can analyse the leaves of your staff and manage the expenses derived from them. In addition, you can plan the holidays and vacations of your employees in a simple way, through a shared calendar. If you want to discover more about the uses and the benefits that this solution offers, read on!
What are the functionalities of holiday management software?
With holiday management software you will be able to organise your employee absences in an effective manner, to work in a more coordinated way. This system will help you know the availability of your company's staff at all times. Some of the essential utilities offered by a leave management software are:
Manage all types of absences and sick leaves, maternity leaves, paternity leaves etc.
Manage employee vacations and days off
Automatically calculate the days that each worker has accumulated
Speed ​​up the approval of vacation requests and withdrawals
Create a shared calendar with the rest of the team, to know the availability of employees
Allow employees to review their vacations and make requests at any time, through mobile devices
Obtain automatic reports to know the performance of employees and the rate of absences
Automatically introduce changes and new absences in the system
Advantages of using vacation management software in your company
The benefits of deploying specific software for employee vacation management are many. First of all, thanks to this application, the processes in the human resources department will be more agile and easy. Other of the main advantages of having this type of software are the ones that we describe below:
Have a global view of staff holidays, leaves and absences
Save a record with all employee absences and vacations
Accept and cancel holiday requests quickly and intuitively
Manage employee substitutions due to leaves and any other reasons in a simple way
Simplify and streamline administration department procedures
Coordinate employee vacations in a more optimal way
Verify remaining vacation days of each employee in a single click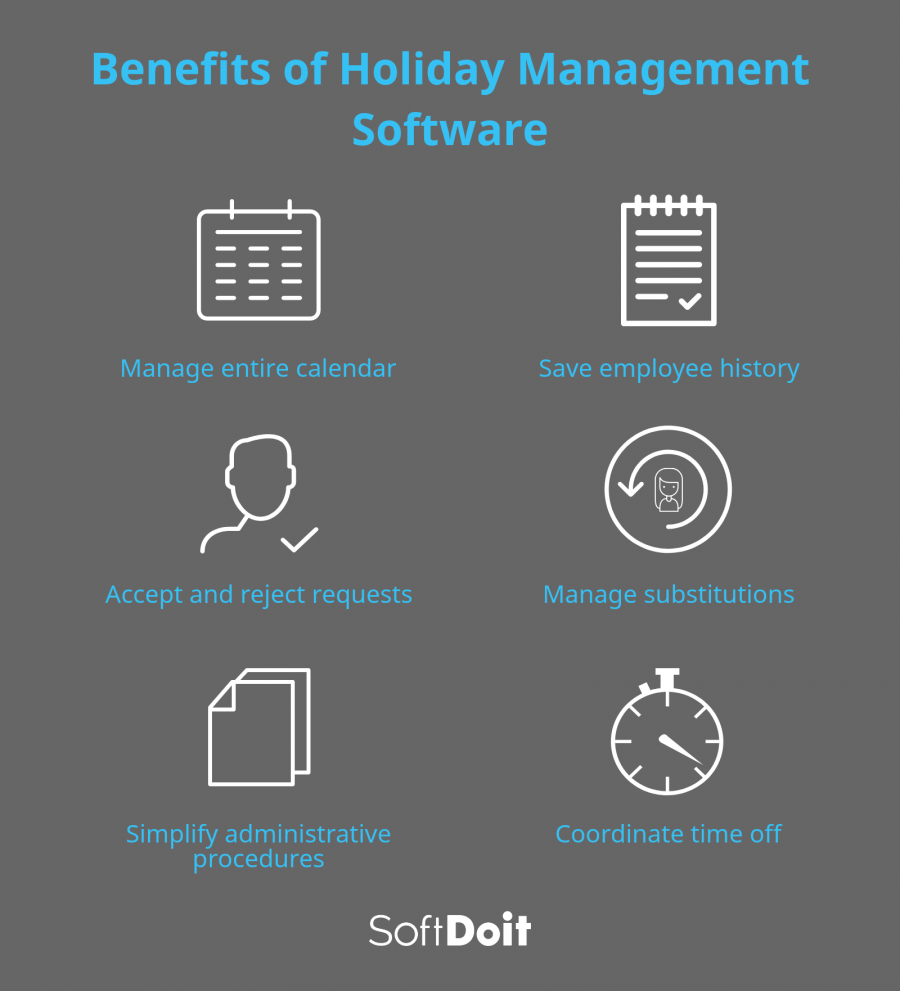 Discover the best absence management software for free
As you can see, vacation management software will allow you to manage the leaves and absences of your company's staff in a simple and efficient way. However, finding software that covers the specific needs of your business is not easy.
Do you need a tool to organise the vacations of your employees, but don't know which one to choose? With the SoftDoit comparison, you will find out which vacation management software best suits the needs of your company 100% free of charge.
Fill in the form of the page with the requirements of your business, and in two minutes you will receive a free ranking with the most appropriate solutions for you. Our comparison analyses over 400 programs in a neutral way based on your preferences. You will make the right choice!