Find the best occupational health and safety software
Every company must guarantee the health and safety of its employees and prevent any risk in the workplace. However, it is not an easy task to perform, since the smallest error can have serious consequences. A software for the prevention of occupational risks will allow you to ensure compliance with safety regulations. According to SoftDoit's annual report on The use of software in Human Resources departments, 32% of companies use an occupational health and safety solution.
The search for software that suits your company can involve a great deal of time and money. But as each company is different, it is essential that you find a risk prevention and occupational safety software that is completely adapted to the needs and the sector of your business.
That's why at SoftDoit we want to help you find the best work safety solution that really meets the requirements of your company. We offer you a 100% free and personalised comparison to discover the ideal health and safety software for your business. Find out now!
What is occupational health and safety software?
Occupational health and safety software is an application that facilitates the efforts of the human resources department to ensure optimal working conditions. This tool allows the development of action plans for any type of incidents and emergencies, to reduce work accidents and protect employees. In addition, investing in the quality of life of workers improves the reputation of the company and increases staff motivation.
Get to know the basic benefits of a health and safety solution for the professional environment
With occupational risk prevention software, you will be able to control activities, create preventive plans and evaluate possible risks in a centralised way. In addition, this solution guarantees compliance with current safety regulations. Here are some of the most relevant features of this program:
Plan preventive activities through a shared calendar.
Conduct evaluations and continuously monitor possible risks.
Organise documents and consult the history of past incidents.
Define and develop emergency plans in different situations.
Obtain reports and statistics to know the accident rate in your company.
Provide training courses for employees to reduce risks, accidents and diseases.
Perform health checks and examinations of your workers: vaccination campaigns, medical examinations, etc.
Maintain a record of the machinery and sanitary inspections of the facilities.
How can your company benefit from an occupational safety program?
Occupational risk prevention software is an essential tool to protect the human capital of your company and to comply with the established professional regulations. With the implementation of this type of software you will enjoy advantages such as:
Guarantee the welfare and safety of your employees in the workplace.
Create an optimal work environment to increase the productivity of your team.
Train your employees in preventive matters through workshops and activities.
Evaluate the risk levels of each of the positions and areas of work.
Significantly reduce the rate of accidents and illnesses.
Minimise sick leave and staff turnover in the company.
Improve the perception of the company and create an environment of trust.
Increase the degree of satisfaction and confidence of your workers.
Save time and costs in the management of preventive processes.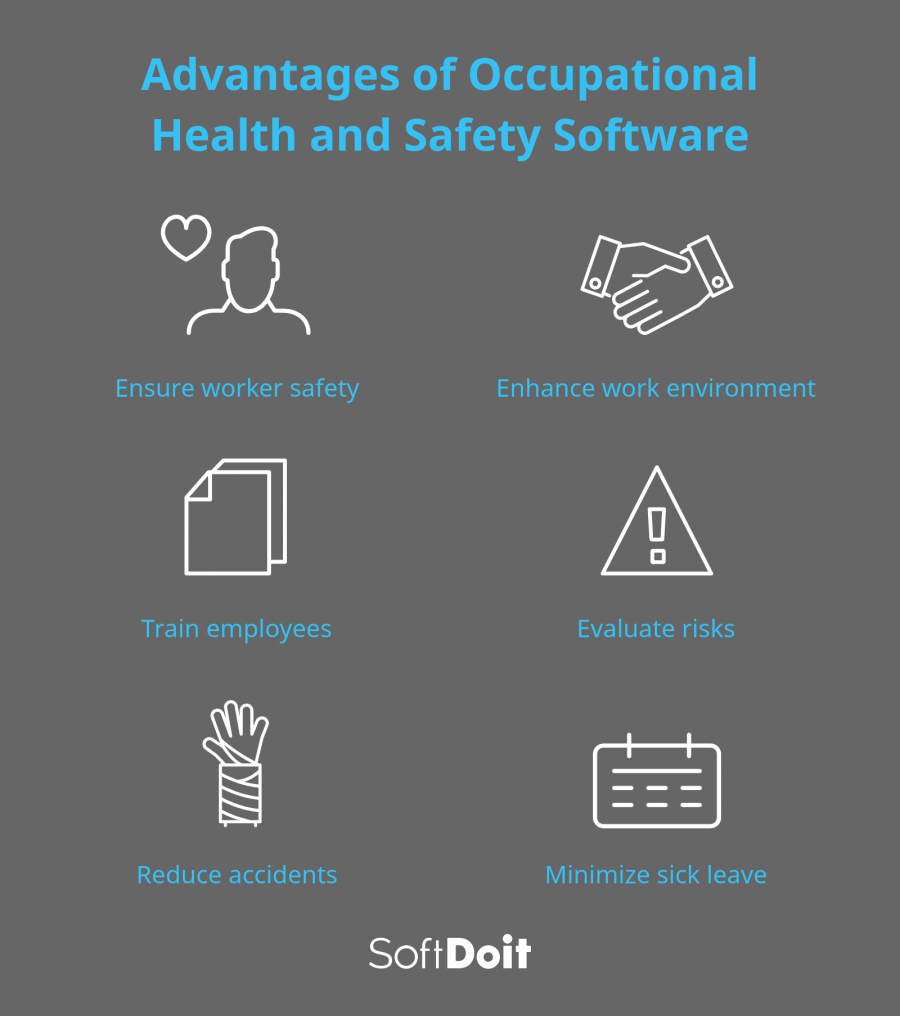 Find the most suitable software to guarantee the health and safety of your employees
Now that you know the main features and benefits of occupational health and safety software, you just need to find the most appropriate one for your company. If you want to find out which solution best fits the needs of your company, just fill out our short form.
At SoftDoit we have helped over 35,000 companies find the best software for their business. Don't spend more time and money that you could invest in running your company. Conduct your comparison and find out which solutions are best to prevent risks and ensure the welfare of your employees. Our service is completely free and neutral!