The Importance of Employee Productivity
Human capital is probably the most valuable asset that a company possesses. Therefore, it is essential to know how to manage it correctly and to provide the appropriate tools to facilitate the daily tasks the employees and those responsbile for them. Employee performance directly influences the achievement of the company´s business objectives. Therefore, the productivity of employees is an essential factor to ensure the proper functioning of any business. But in what way can the performance of company staff be improved? And in that case, is it possible to measure the productivity of each employee? Below we answer these and other questions.
7 keys to improving employee performance
As we mentioned before, employee productivity is essential to ensure the success of any business. It is useless to have the best professionals in your company if you are not able to manage them correctly to maximise their performance. The optimal management of your employees' workday is crucial to achieve high rates of productivity. But in order to improve the performance of your staff, it is not only important to manage time wisely, it is also essential to take into account the following aspects:
1. Digitalisation
In the era of digital transformation, it is essential that companies have software specially designed to increase and measure the productivity of the company and its employees. There are different technological solutions on the market, such as human resources software, which allow the automation of most processes and simplify the management of employees. In addition, it is essential to constantly innovate and invest in tools and equipment that are faster and more efficient, to achieve business objectives and stand out from the competition.
2. Motivation of employees
To be more productive, employees must feel motivated. To do this, it is important to value employees' effort and offer salary incentives. It is also important to involve employees in projects so that they feel indispensable within the company.
3. Payroll and contract management
Managing payrolls, contracts and all documents related to employees is another factor to keep in mind. Allowing the employees to access their personal and work data, consult the information, and make necessary modifications helps improve their performance.
4. Employee training
Productivity also depends to a large extent on adequate training of team members. Employees must have the knowledge required to perform their duties and know all the changes that occur in the company. Investing in their training will improve their professional skills and also increase their performance.
5. Effective communication
Internal communication in any company must be fluid and effective, to ensure that all departments work in a coordinated manner to achieve the same objectives
6. Optimal planning
Planning tasks correctly is essential to achieve higher levels of productivity. If you are able to develop a clear strategy, in which the objectives and activities are well defined, your employees can distribute their work hours more efficiently.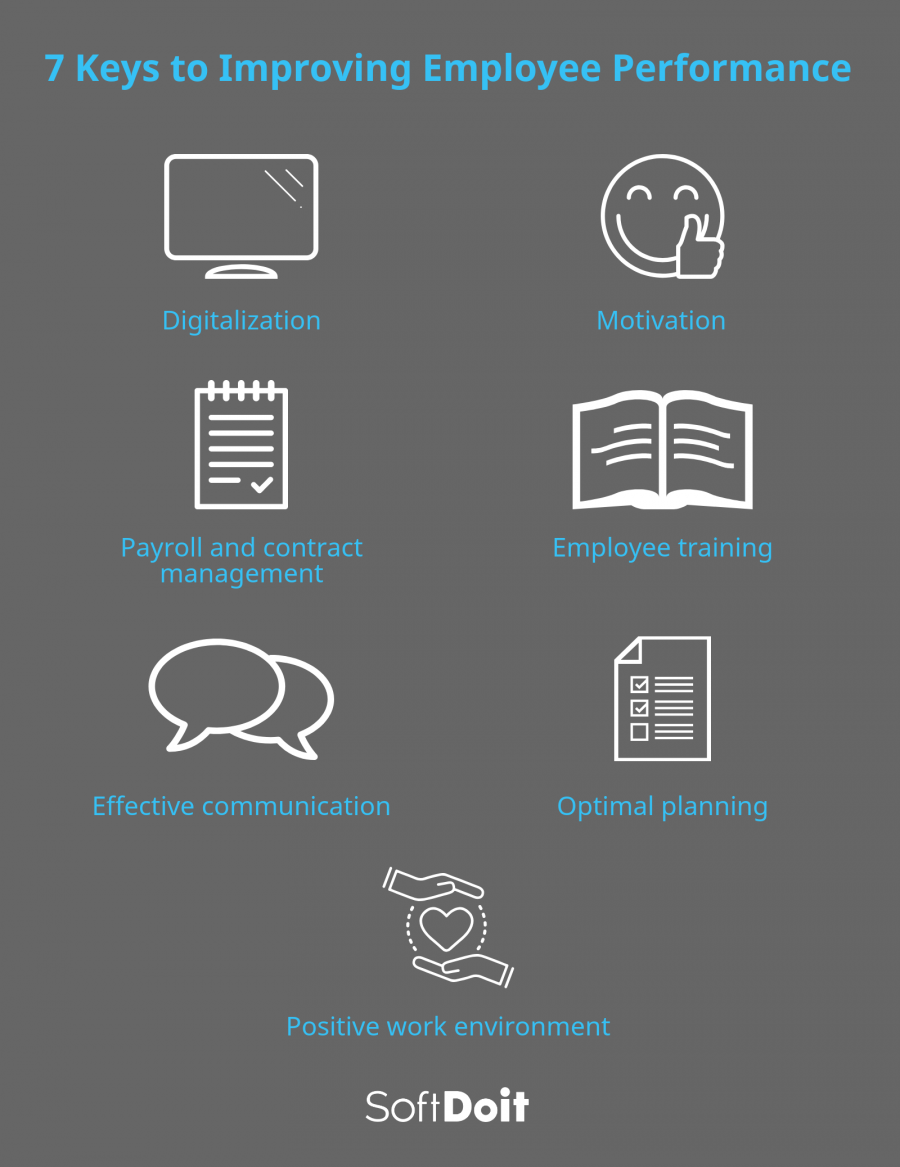 7. Positive and safe work environment
The work environment is a determining factor to guarantee the productivity of employees. Therefore, the human resources department should ensure a positive work environment and respect among the members of the team. It is important that each employee can share their knowledge, ideas and experience with the rest of the staff, as they can add value to the company. It is also necessary to ensure their safety in the workplace and take appropriate preventive measures.
How do you measure employee productivity?
To evaluate work performance, there is software that provides information in real time on the productivity of each one of the employees, in a simple way. A performance evaluation software automatically generates essential data to assess the performance of your company staff. In addition, this information makes decision making much more efficient and accurate.
Find the best personnel management software and improve the productivity of your business
Whether you are looking for a tool to measure the productivity of your employees or you want to improve their performance, SoftDoit can help you. We offer a 100% free and neutral comparison with the productivity management programs that best suit your needs. All you have to do is fill in the form on this page and in two minutes you will receive a fully customised ranking. Our comparator will analyse over 400 different solutions according to your preferences. Go ahead and try it!