Cloud-Based Software to Calculate Payroll: 5 Keys to Choosing the Right One
In a digital and global world like today, payroll management is an increasingly complex process. The great global technological trends are combined with mobile and flexible work forces and change the way companies manage their payroll solutions and the management of related taxes. Therefore, it is useful to use cloud-based software to calculate payrolls.
Cloud accounting systems help companies manage their essential financial and administrative functions: not only does it save time, it also has better process control, which minimises the chances of errors.
Would you like to know how to choose from the wide variety of payroll ERP options you can find on the market? We give you the most important tips to choosing the best cloud-based programs to calculate payrolls.
What is cloud-based payroll software?
Payroll software is in charge of the registration, creation and control of all aspects related to the payroll of company employees, including taxes.
When we talk about a cloud-based software, we refer to the fact that the program is usually installed in the provider´s hardware, outside the company's facilities, and that users make use of this software through an internet connection and a web browser. Therefore, all the information created in the program can be saved and consulted whenever necessary.
How to choose the perfect cloud-based payroll software for your company
The main advantage of this type of software is that it streamlines the processes of payroll management, saving time and significantly minimizing errors. Therefore, before deciding on a particular software, we recommend that you consider these 5 features that will make your software a useful tool:
1. Effortless handling
Calculating the compensation of your employees every month requires extensive knowledge that perhaps the manager of the company has not completely mastered. But additionally, if the payroll software you install is complex and its operation difficult and slow, it becomes a problem rather than a solution.
 
The best payroll software to optimise time and improve the productivity of the company is one that has an intuitive interface, makes it easy to save your content in the cloud, and offers a good user experience.
 
2. Smooth integration
A good payroll software for the cloud has to be easy to integrate with the rest of the programs you use in your business. The easier it is, the better.
 
Do not try to work with a lot of different platforms that do not allow you to cross-reference data. This will only make you waste your time.
3. Compliance with legislation
When it comes to economic and labour issues, it is very important to keep in mind the current legislation, since the consequences can be detrimental if is not followed correctly. It is better to make sure that the cloud-based software you choose is up to date according to the law, and that it will continue to be.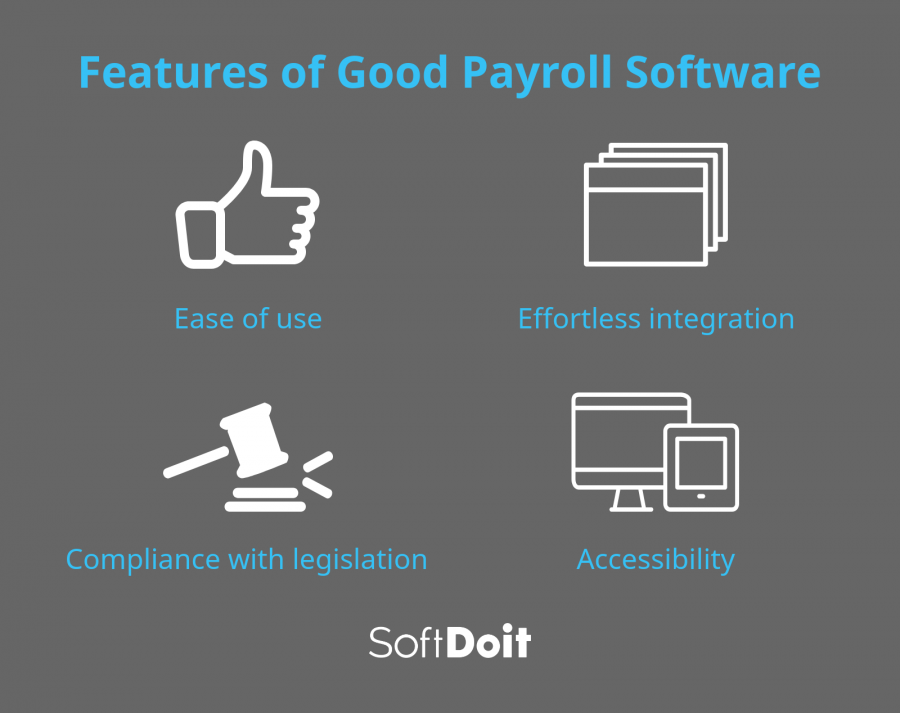 4. Accessibility
With cloud-based software no downloads or installations are required, so you can access all your information from wherever you are, whenever you like, whether it be from a computer, tablet or mobile device. If you are always on the move, this is one of the most important things you should keep in mind, since you can have all the information about your company and employees at your fingertips, allowing you to update and review it instantly.
5. Security
When we talk about personal data, contracts and payroll, we talk about sensitive information that must be treated with great delicacy. The program you choose must comply with all security protocols and ensure the privacy of all data. This way employees, and the company itself, can manage all documents without any concern.
How to find a cloud-based payroll software that fits perfectly with your company
If you want to find the ultimate cloud-based payroll software for your business, SoftDoit can give you the solution. The comparator will select three payroll HR solutions from amongst the best software providers, in a neutral and free manner.
Place yourself ahead of your competitors with the right software and save time that you can invest in the main objectives of your business. In addition, your employees will be much more satisfied, so your productivity will increase.
Fill out the questionnaire on this page and discover the best cloud-based payroll software for your business, completely free of charge!