The traceability of products, quality control, and efficient inventory management are key factors for the proper administration of companies in the food or tobacco sector. A food, beverage and tobacco software will allow you to track the production and distribution of your products.
If you do not know which program is the most suitable for your consumer goods company, SoftDoit will help you find it with a completely neutral and free service. Simply answer the questions you will find on this page and in a matter of minutes you will get a personalised comparison. You will save time and money in your search and you will make the right decision!
What is a software specifically for food and tobacco companies?
A program for the management of consumer goods simplifies all processes related to the manufacture and distribution of food, beverages, or tobacco. This system is specially designed for the administration of companies that belong to the food and tobacco industry. Controlling the inventory and ensuring the quality of the products will be much easier with a tool like this. Next, we will discover more details about this solution, as well as its advantages and basic features.
What are the most outstanding functionalities of a consumer goods management solution?
The food and tobacco industries are increasingly competitive, so it is essential to have technological tools to facilitate your work and optimise all daily processes. Aspects such as traceability, stock control, and production can become much simpler thanks to the use of a software adapted to the needs of your company. A system for consumer goods management offers the following benefits:

• Manage all areas of the business in one place
• Control the availability of inventory at all times and manage the automatic replenishment of stock in the warehouse
• Guarantee that the products comply with the established health and safety ISO standards
• Keep track of batches of products with barcode scanning capability
• Manage the expiration dates of all products with accuracy
• Comply with delivery times defined by customers
• Make simultaneous orders to suppliers automatically
• Simplify administrative tasks and business accounting
• Generate custom invoices and budgets for each order
• Modify the records of clients and suppliers easily
• Optimize the supply chain to match supply and demand
• Manage business activity to ensure the achievement of objectives
• Integrate the system with points of sale and purchasing centers
Discover the benefits of using software for the food and tobacco industry
With software that adapts to the requirements and profile of your food, beverage, or tobacco company, you will reduce costs and increase productivity to maximise your profits. In addition, you will be able to streamline all processes of your business, so that your customers feel more satisfied with the service received. Here are some of the main advantages of these programs:
Optimise the management of resources to increase profit margins.
Prioritise the issuance of products with the closest expiration date to minimise waste.
Reduce manufacturing, maintenance and product distribution costs.
Guarantee the quality and safety of all foods, according to ISO standards.
Optimise the traceability of products in all their phases.
Obtain information in real time to know your business' status and simplify decision making.
Comply with the stipulated delivery times, thanks to proper route management.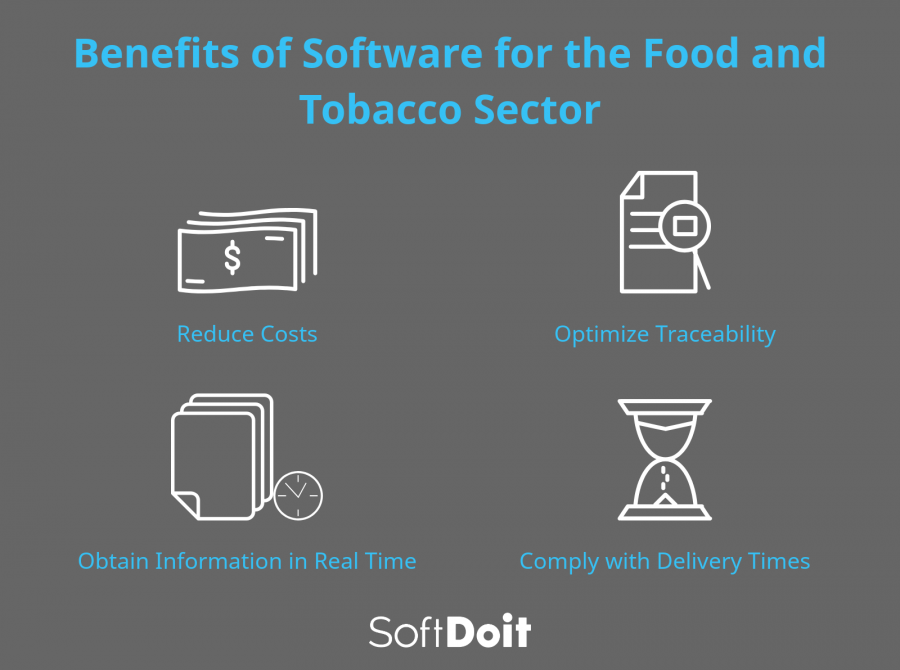 Why implement a solution for the food or tobacco industry?
There are multiple reasons why it is advisable to use a specific management program for your food, beverage, or tobacco company. In addition to the advantages mentioned in the previous point, other additional benefits offered by this system are:
Integrate all the sections of your business into a single application to achieve a more efficient management of your company
Offer faster and higher quality service to your customers
Automate practically 100% of internal and external processes to avoid duplication and reduce errors
Effectively manage the databases of suppliers and customers
Get your free ranking with the best software to manage your consumer goods business
Software for the food, beverage and tobacco sector will be really useful for you whether you work in a food and tobacco manufacturing and processing company, or in a supermarket or hypermarket. What you should keep in mind is that not every solution will be equally helpful. Before choosing this type of system, you should consider the size, objectives and specific needs of your business.
If you want to find out which program for the production and distribution of consumer goods best suits your company, fill in the form on this page. In two minutes we will send you a completely free and neutral comparison with the most suitable options. Over 35,000 companies have found the best solution thanks to SoftDoit. Do not wait any longer and request your personalised ranking right now. Our service is fast, neutral and free!