A unique software for material requirments planning
Material requirements planning (MRP) integrates all production and purchasing activities, scheduling acquisitions to suppliers based on the planned production. The software system used for this type of management can be applied to both very small companies and large companies, to ensure a good flow of production and respond to demand.
Do you want to know its functionalities and how you company can benefit through its use? SoftDoit will give you all the details below.
What is an MRP system?
Material requirements planning software are programs closely related to ERP aimed at managing manufacturing resources. Specifically, MRP software is responsible for controlling and coordinating the materials so that they are available when necessary, and at the same time without the need to have excessive inventory.
This type of software was designed during the Second World War, a product of the US government´s desire to control their battle units. Currently, they are commonly used in the sectors of engineering, furniture manufacturing, automotive, textile manufacturing, and household appliances, amongst others.
As mentioned above, MRPs try to manage inventory demands. In this regard, it should be noted that three types of demand can be distinguished that this software is responsible for processing:
Independent Demand
This is the demand which is only influenced by market conditions. It is a difficult demand to estimate accurately, which is why this must be predicted.
Dependent Demand
This is the demand whose quantity is a function produced by independent demand. For example, in the demand for tires: sometimes, it is a demand dependent on independent demand for bicycles.
Mixed Demand
This is the case of the elements that may be subject to both dependent and independent demand. A good example would be the case in which the rims of a bicycle are also marketed individually. In this case, it will be an independent demand subject to the market, in addition to a demand dependent on the number of bicycles sold.
What are the objectives of an MRP software?
The main objective of material requirements planning system is to be able to carry out an established production plan, such as purchase orders of raw materials, product manufacturing and demand satisfaction.
In this way, an MRP system helps to:
Decrease inventories of raw materials and finished products.
Minimise the delivery times of the products.
Determine realistic tasks and objectives.
Increase the efficiency of the process.
Set alerts. For example, anticipate and detect any unforeseen shortages of inventory.
Technically support long-term planning.
Functions of an MRP system
MRP systems exist to help provide a solution to these specific questions:
What product must be produced or sorted?
What quantities of the product must be produced or sorted?
At what moment must the product be produced or sorted?
What resources are needed to carry out the production process?
Advantages of using material requirements planning software
The use of good MRP software can provide your company with benefits in terms of software operation and final results, since they determine how many components are needed during the production and purchasing activities, program supplier acquisitions, and the manufacture of materials. All to satisfy the demand for the final products. Some other advantages of its use include:
Easy to use
These are systems designed with intuitive interfaces that allow you clear access to the most advanced functions and calculation techniques. You can instantly browse and explore the information to analyse and understand it without being an expert.
Fast and effective
Its functionalities are prepared to offer you speed and efficiency to resolve challenges. You can carry out any functionality in the shortest possible time.
Take advantage of market opportunities
You can improve the efficiency and profitability of your business by controlling the demand and service of your customers, production capacity, and purchasing and warehouse objectives.
Fulfill commitments to your customers
You gain the ability to handle a large amount of data from multiple products and references, in an integrated manner.
Increase your capacity and control
Its optimisation output will make allow you to improve the production capacity and service for your customers.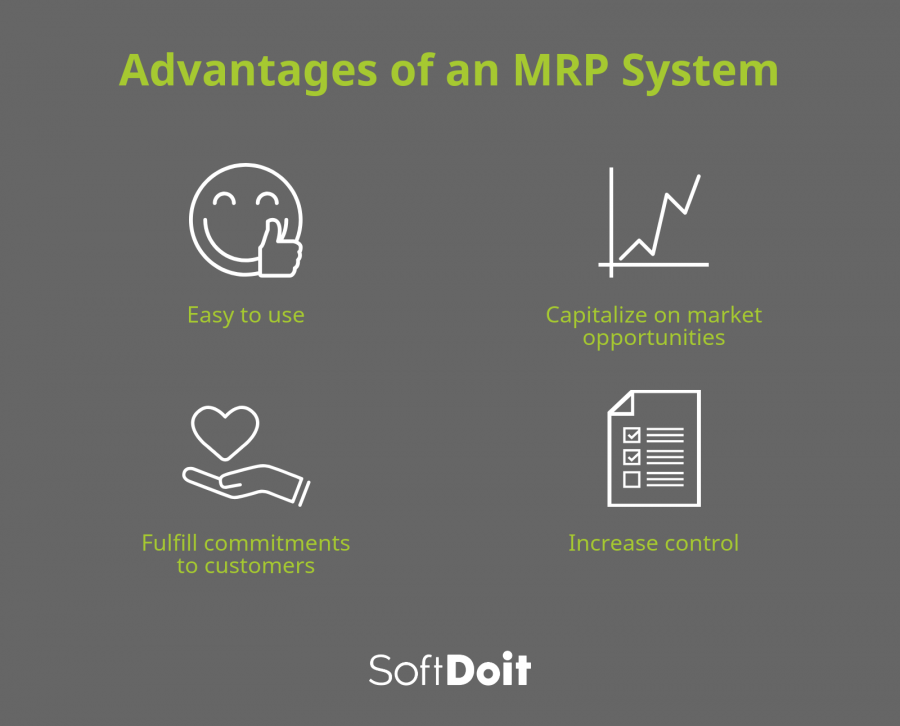 Get your MRP system now
You may be looking for a solution that can adapt to the needs of your business. If so, SoftDoit can help you in a free and neutral manner. All you have to do is complete the form you find on this page, with some information about your company, and our comparator will do the work for you. You will shortly receive a ranking with the most suitable MRP software for your business. Try it without commitment or cost!