Managing invoices is one of the most important tasks that all companies must perform on a daily basis. Billing software is an ideal tool to simplify the management of accounting processes in your company. Thanks to this system you can save time and generate personalized budgets automatically. But you should know that each business is different, so not all of them will cover the specific needs of your company.
In fact, 60% of companies fail to choose the correct software, since they do not take into account relevant factors such as the industry or the size of the business. At SoftDoit our goal is to help you find the best program to manage invoices for your company. Therefore, we encourage you to use our free and neutral comparator, with which you will discover the solutions that best suit the requirements of your organization.
What is a business invoicing system?
An invoicing system is a software that allows managing and keeping track of the sending and receiving of invoices in companies. An accounting program is ideal to facilitate administrative procedures and automate the management of receipts. In addition, with this system it is possible to customise invoice templates and organise all legal documents efficiently.
What are the main functionalities of an accounting program?
According to SoftDoit and the Association of Computer Technicians´ annual report on the current and future status of software in Spain, 83.8% of companies have ERP billing software. With an accounting management program you will have the following utilities:
Create custom templates, with the logo and corporate colours, for each of the invoices
Define the frequency for sending invoices with a calendar
Send invoices to customers and generate budgets automatically
Keep absolute control of business expenses and income
Improve internal processes and generate more value for the company
Quickly and easily manage the invoices of the company
Obtain reports and graphs in order to carefully monitor the evolution of the business activities
Create customer lists to send invoices by email
Generate and manage payment and collection receipts
Learn about the benefits of using an invoice management system
An enterprise billing software offers multiple advantages that will help you save time in accounting tasks so that your clients feel more satisfied. Amongst other things, an administrative management program provides benefits including:
Take full control of the business' financial activity
Ensure compliance with tax regulations
Easily access all invoices and accounting documents
Obtain reports with the company's profit and loss index
Manage customer and supplier databases in an integrated manner
Decrease the time dedicated to each of the accounting operations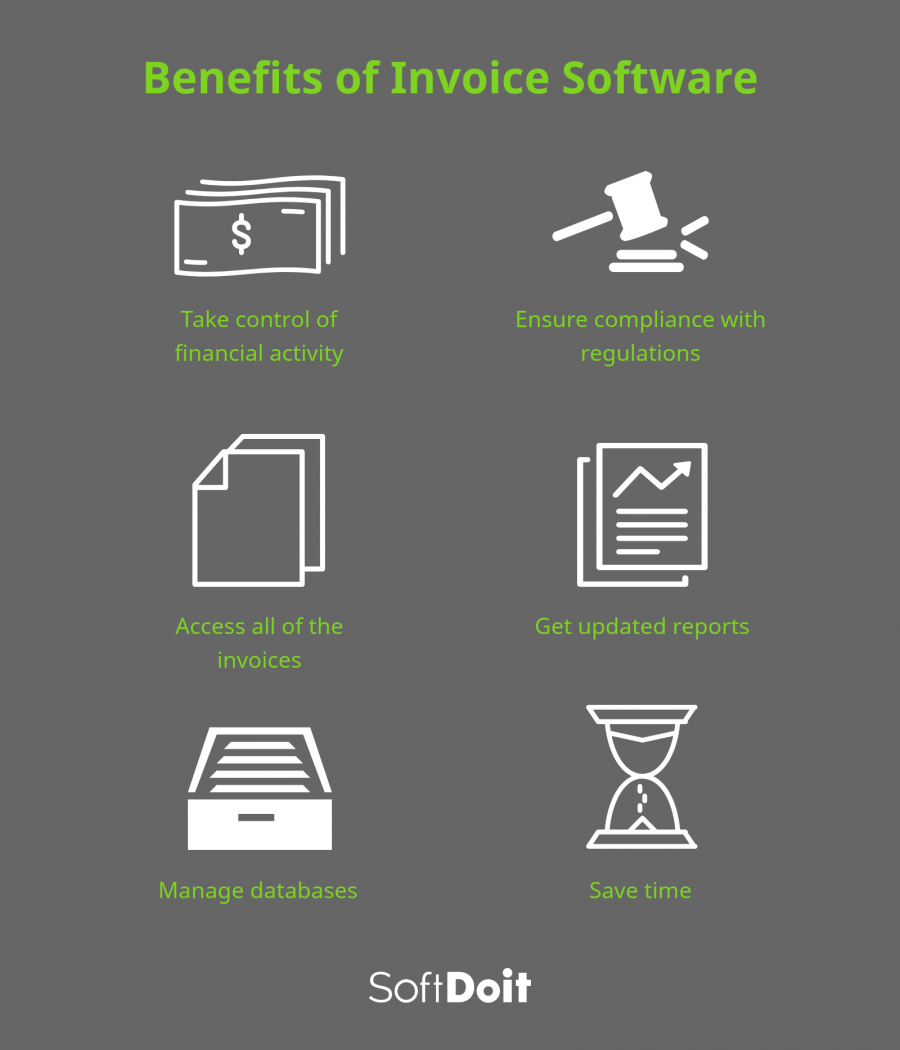 Advantages of implementing cloud-based billing software
More and more providers offer the possibility of cloud-based accounting solutions. Some of the most outstanding benefits of implementing an online bill management system are:
Save space by not having to host the program on the company's internal servers
Have access to information from anywhere and at all times through various devices
Keep the software always updated to avoid becoming obsolete
Save on installation costs and maintenance of the solution
What is the best invoice software for your company?
An accounting management solution will be your best ally to simplify administrative processes and keep total control of the economic activity of your business. However, not every system will be equally useful, since not all cover the specific functions that your company needs.
If you want to find out which billing software best suits the profile and needs of your organisation, use our free and neutral comparator. Fill in the form that you will find on this page and in two minutes you will receive a personalised ranking with the best solutions for you.
Over 35,000 companies have already relied on the SoftDoit comparator and have found the right software thanks to us. Do you need more reasons to prove it? It's fast, neutral and free!