Why is ERP necessary in inventory management? Do you know the advantages that an ERP software linked to inventories can provide your company?
Controlling inventories is a much easier task if you do it through ERP (Enterprise Resource Planning). While it is true that inventory management can be offered as a stand-alone program, software is usually integrated together with warehouse or supply chain management systems.
ERP systems, on the other hand, have specific modules for inventories. These ERP inventory management modules are used, for example, in retail, distribution, manufacturing, and linked to retail marketing systems, in those processes in which users are also responsible for managing prices.
How can an ERP system help with inventory?
The ERP system can help in the inventory of stocks, through task optimisation and saving time. In order to be able to keep an exhaustive control of the stock, it is fundamental that the functions of an ERP are reviewed from its entry to its exit:
Reception
The tasks of order reception must be automated. The objective is to streamline the storage process.

Download management
Incident management with suppliers
Merchandise inspections
Registration and collection of information on the entire process
Fine tuning
When it comes to outputting a product, it is necessary to reduce the order preparation times.

Possibility to generate orders automatically
Tracking of serial numbers and warehouse references
Printing of bar codes
Storage
Once the inventory is in stock, it has to be controlled, to later prompt movement to depart the warehouse at the right time.

Adequate control of stock balances
Control of supplies in inventory
Transportation amongst zones
Exit
Once supplies have left the warehouse, they have to remain controlled, for this reason, it is important to automate the process. Likewise, keeping track of orders allows us to determine the levels of expenses incurred and to carry out reports that help us to know the movements, transfers and merchandise adjustments made.

Efficient and coordinated analysis and management of sales
Reports from the analysis of sale movements
Data and information in real time, constantly updated
Advantages offered by an ERP for inventories
There are many benefits that an ERP brings to the company when managing inventories. Some of them are the following:
Control over excess and lack of inventories
Management of stock exits
Cost reduction
Productivity increase
Improvement in customer service
Generate merchandise orders automatically
Effective tracking and management of purchases in order to determine the levels of spending that are handled in your company
Improvements in the flow of merchandise
Tracking number of series and warehouse references
Support for decision making
Supply control
Time saving
Updated reports with movements, transfers and merchandise adjustments made
The areas of sales, distribution, production and collection will improve their work rate by having dated and real information from inventories
Ability to keep electronic accounting and therefore to comply with the SAT
Updated financial reports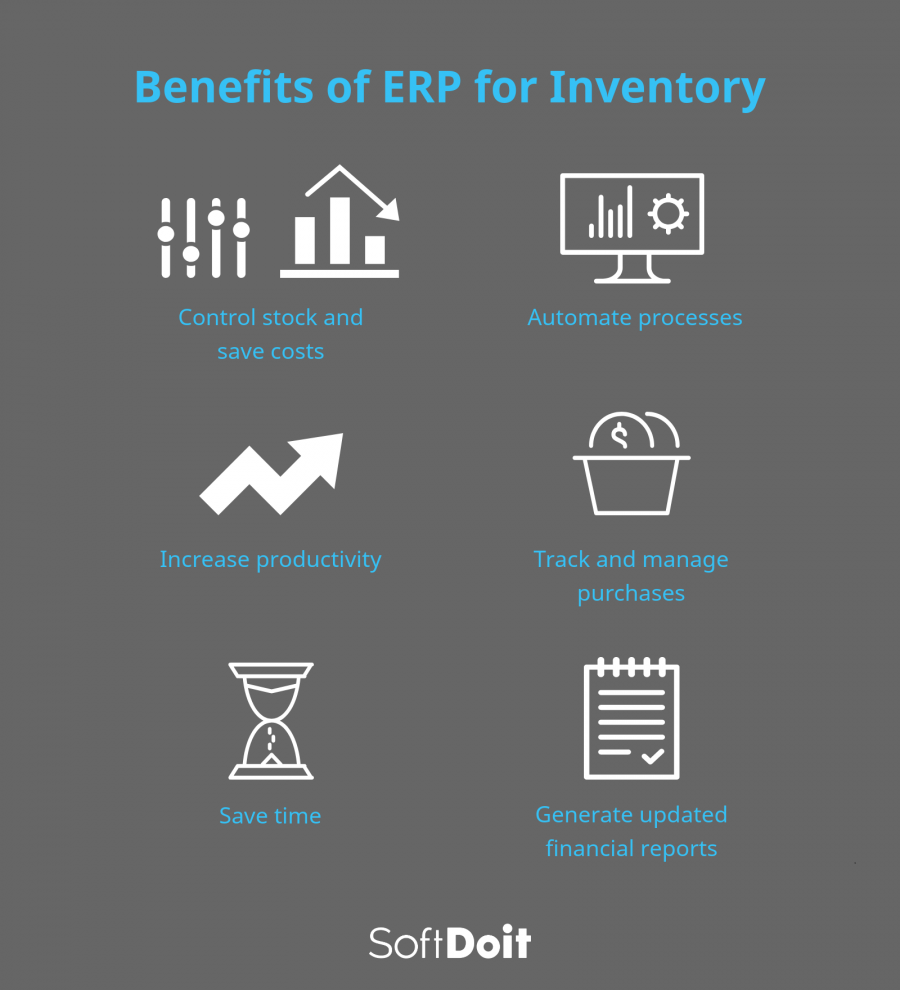 What is the best ERP software for the inventory management of your company?
Still don't know what the best solution that can be adapted to your business is? Don´t worry, we'll make it easy for you. Fill in the form that we provide for free, and do not hesitate to acquire the best ERP solution for inventory management of your company. Over 35,000 people have already filled it in, join them.