Improve customer service with customer service software
With help desk software you will be able to offer exceptional technical assistance to your customers, as well as to integrate the management of all processes related to assistance and maintenance. This tool gives fundamental support when solving all types of technological incidents and managing the work of your company's technical operators.
If you don't know what the best help desk software for your company is, at SoftDoit we help you find the one that best meets the requirements of your organisation. Our comparator analyses over 400 programs in a completely neutral way, based on your specifications. Request your personalised ranking now!
What is help desk software?
Help desk software is a program that allows you to easily manage customer service and solve problems with greater efficiency. This software, among other things, integrates the management of technicians and the resolution of issues. If you want to know about the functionalities and the most notable benefits of this solution more in detail, read on!
What can you do with technical support software
Help desk software is an essential piece to provide a fast and efficient service for your customers. This program offers multiple uses to simplify the tasks related to the maintenance and technical support in your company such as:
Have localized operators available at all times through geolocation tools.
Create notifications of new issues reported by customers.
Notify and assign incidents to technicians in a simple way.
Generate customized documents, budgets and delivery notes for each notice.
Plan the tasks to be carried out through a calendar shared with the team of technicians.
Send notifications to technicians in case there are changes in the agenda.
Find available operators who are closest to the indicated area to manage an incident.
Manage requests for preventive and corrective maintenance service.
Manage billing and contracts for the assisted clients.
Help desk software: discover its main benefits
Having an ERP technical support software in your company will provide many advantages. In addition, thanks to the implementation of a customer service solution, you will be able to better coordinate the processes of the different departments of your business. Other benefits that this tool can bring to your organisation are those listed below:
Offer faster responses to your customer requests and issues.
Work in a team in a more synchronized manner.
Optimize internal communication between the different areas of the company.
Monitor the progress of each of the interventions.
Reduce the process times and increase the performance of the company.
Avoid errors in all procedures.
Conduct surveys guage customer satisfaction.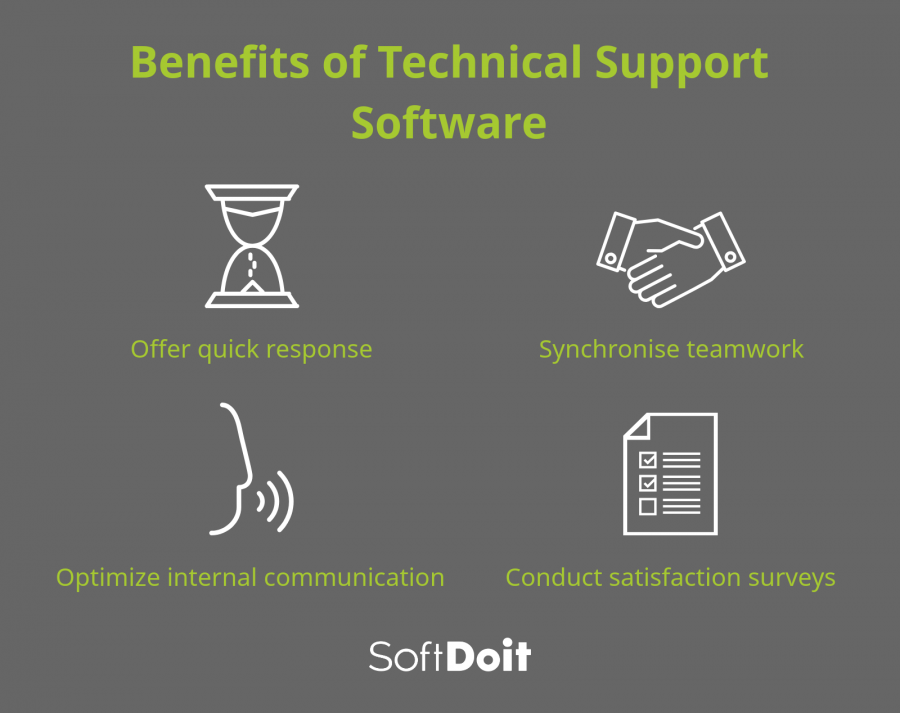 The importance of technical assistance to build customer loyalty
Beyond the maintenance and assistance of repairs, technical service has a direct impact on the way the company is perceived. Therefore, it is a vital aspect in order to improve the company image. That is why technicians must have the proper training and offer exceptional service to customers.
To guarantee the effectiveness of repair and assistance operations, it is essential that you be able to anticipate possible problems and solve them as quickly as possible. Help desk software will allow you to maintain communication with your customers to be able to detect any dissatisfaction. In addition, with this software you will obtain all the necessary information to evaluate the performance of technicians and discover new points of improvement.
Keys to offering good technical assistance
Allow customers to provide feedback
The opinion of your customersis valuable to know the strengths and weaknesses of your company. Therefore, it is essential to maintain constant communication with them and send satisfaction surveys to receive their feedback.
Invest in the training of your employees
Another key aspect to provide excellent service is to make sure that your operators are well trained and have the technical knowledge required to solve any issue. Therefore it is ideal that you carry out training courses on a regular basis.
Coordinate team work
Just as it is important to communicate with clients, internal communication between team members is also crucial. Working in a more synchronized way will help you avoid duplication of tasks and increase productivity.
Use the appropriate technological tools
As we have commented in the previous point, a customer service software provides the necessary tools to manage your operators, organise daily tasks and facilitate communication with your customers. Therefore, it is essential that your company has a specific IT solution that adapts to the requirements of your organisation.
What is the best help desk software for your company?
As you can see, with customer service software you will have a large number of features to increase the productivity of your operators and offer a first-class technical service. However, there are many different solutions on the market, so the search for the ideal software can cost you a lot of time.
If you want to find out which help desk program that is most suitable for your business, fill out the web questionnaire and in two minutes you will receive a ranking of 100% customised solutions. Request your comparison and find the best maintenance software today!