The invoice and accounting management of your company can be much easier thanks to the implementation of software to create budgets that suit your business. This software provides the necessary functionalities to generate budgets and turn them into orders, delivery notes or invoices in a single click.
With the SoftDoit comparator you will find out which software to make budgets best fits your company, completely free of charge. Do you want to know how? Just answer the brief questionnaire that you will find on this page with the main characteristics and requirements of your company. It's that easy!
What is budgeting software?
Budgeting software is a very useful program to manage the billing and accounting of any business. In addition, this application provides the necessary tools to analyse the financial situation of the company and improve decision making. In addition, it also allows the automation of most administrative processes to increase efficiency.
Learn about the main functionalities of an accounting solution
With digitalization, companies have stopped creating budgets with spreadsheets and have started to use software tools to perform these tasks. Budgeting software is a fundamental tool for the management of invoicing and accounting processes. Among other things, thanks to the implementation of a solution of this type you will enjoy the following features:
Generate customized budgets, invoices and delivery notes with the company logo.
Add new contacts and manage the database of suppliers and customers.
Stay in control of the treasury and the accounting of your company.
Manage and organize all relevant documentation.
Track invoices and send budgets to your customers and suppliers.
Control the status of budgets in each of its phases: created, sent, accepted and archived.
Discover the advantages of budgeting software
Budgeting software offers multiple benefits that will help you to manage the accounting processes with greater precision and increase the productivity of your company. These are some of the most important advantages offered by a financial solution:
Prepare budgets easily and with greater precision.
Obtain reports to know the development and economic health of your business.
Improve the relationship with your customers by optimizing financial management.
Save time by automating the workflows of the administration department.
Calculate the average costs with the objective of increasing the profit margin.
Eliminate manual data entry to reduce the risk of making mistakes.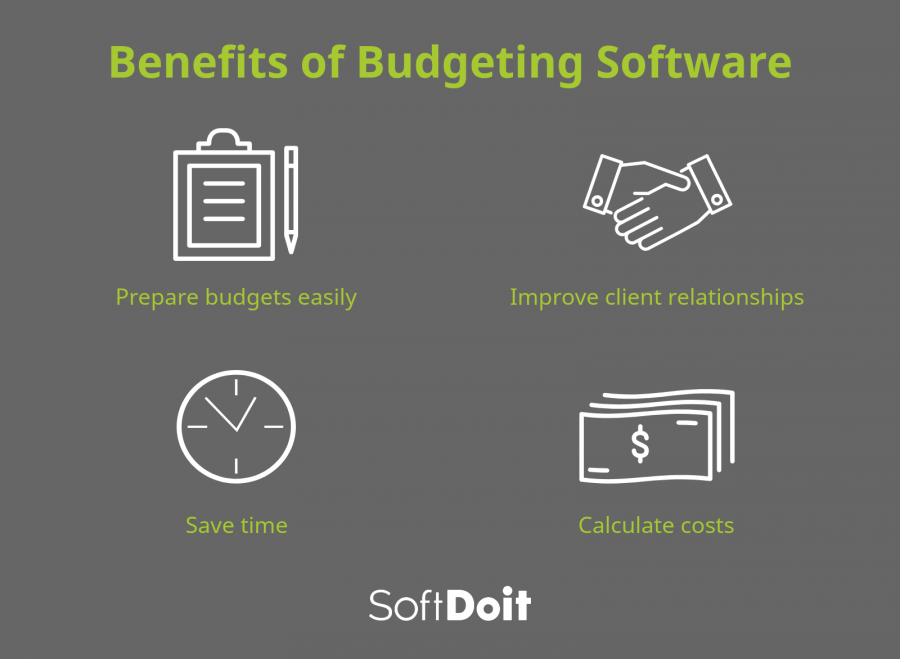 What kind of companies need a budgeting solution?
Budgeting software is a tool that is very useful for any type of company. Both SMEs and large companies need to create budgets and manage the financial processes of their business on a daily basis. However, there are some sectors for which budgeting software is especially necessary:
Businesses
This software is essential for all types of businesses, whether they are wholesale or retailers, since it allows converting budgets into delivery notes and invoices automatically. In addition, it is an essential tool to increase the profit margin, since it guarantees control of all the financial activity of the business.
Distribution
Companies in the distribution sector also need this program to budget the costs of storage, handling and distribution of merchandise.
Industry and manufacturing
In the case of industry and manufacturing, this solution is essential to control the costs of the supply chain and create budgets for the material and personal costs for each project.
Services
Service companies need a system of this type when controlling personnel costs, as well as to send budgets of several services to customers.
Transport and logistics
The logistics and transport sector can also benefit from this solution, since it speeds up administrative procedures and optimizes management.
Find out which software is best for invoice and budget creation
With software to create budgets you will reduce the time devoted to operational processes to increase the performance of your company. If you want to find out what budgeting software best fits the requirements of your business, complete the questionnaire on this page.
In a matter of minutes you will receive a ranking in your email with the best accounting systems adapted to the specific needs of your business. Our service is 100% free and neutral, so consulting our comparator will not cost you anything!
At SoftDoit we have already helped over 35,000 companies find the perfect software to generate budgets. If you want to be next, ask for your personalized comparison today!