Accounting management is a daily task in any company, and sometimes, it can be a very meticulous work and even a headache for the professionals who are responsible for it.
The way to manage invoices, bank movements, pending payments, tickets or expenses, whether you are a large company, an SME, or self-employed, can change.
Do you want to know why and how? Keep reading, because the solution is to venture into the use of accounting programs tailored to your type of company.
Characteristics of accounting software
There are many programs that you can find to manage business accounting and they all share one of the most important features we all long to have in our workplace: they save time.
The easy management of your options and the integration of operations in the same system, makes managing internal accounting a much lighter and more bearable task, and does not require trained and specialised staff to use the software.
And if you were wondering, most of these systems are programmed so that they can be compatible with other enterprise software, such as Office, and allow you to export information to other programs or devices.
Another of the most important characteristics that concern us the most when it comes to finding a good accounting program is the safety of it.
By finding the right software for your business, you make sure to keep your accounts safe and private, since they are designed to be accessible only by passwords. In addition, you can also forget about losing information because they can perform automatic backups, so you will always have at hand (in the cloud) all data in case of system failure.
How an accounting program will help your business
Why spend so much time on accounting tasks when you can invest in getting new clients? Instead of getting too manually involved with administrative processes, get an accounting software in which you can delegate most processes, and make your business run as smoothly as possible.
These are some of the main benefits of managing your accounting through a software tool:
Easy to use
Nowadays, intuitive and manageable tools are created that allow you to easily and efficiently perform for any type of process. In many cases they even have the ability to be used through your own smartphone. You can automate the issuance of invoices to make periodic payments, make budgets easily, or know in a matter of seconds the increase or decrease in sales.
It will provide flexibility
The use of accounting software can allow you to perform many functions from one system, and therefore make accomplishing tasks much more convenient for your business.
Manage your business reports
The process of reporting is essential for the decision making of companies. A good accounting tool will allow you to issue reports of lost accounts, as well as profits, balance sheets, etc.
Portability to the cloud
The most common problem in many companies is when the computer on which the accounting tool has been installed becomes damaged. You will not have to worry if you choose software that allows you to save all the information in the cloud. In this way, you can use the information whenever and wherever you want.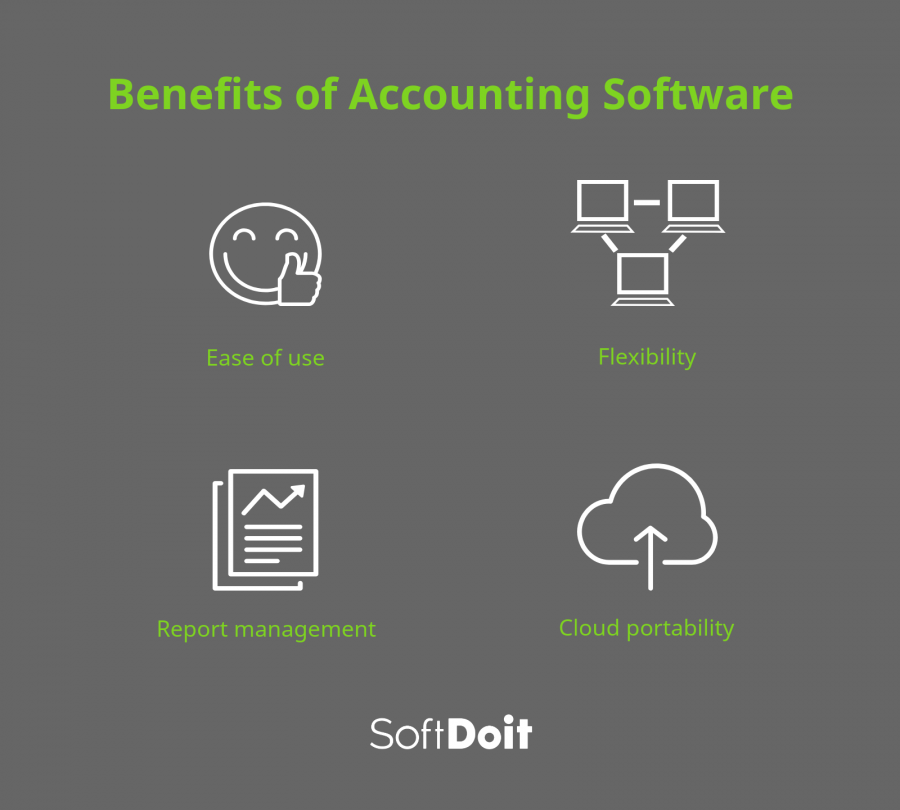 Do you want to find the best accounting software?
If you want accounting to stop being a source of stress in your business, you need to get good software. It is not only about minimising tasks or saving time, but also about growing and evolving as a company, and also, always keeping your accounting up to date.
At SoftDoit we have the definitive formula for you to find the accounting program that best suits your business You just have to complete our short form with some of the characteristics of your company. We'll do the rest! Almost instantaneously you will receive a free and neutral ranking with the software that best suits your needs.