The importance of industrial production management software
The industrial sector is in continuous development, so optimising costs and finding ways to work more efficiently are essential to stand out from the competition. Industrial production is composed of a series of complex processes, which can be carried out more easily thanks to the use of the right tools. Software for the control and planning of industrial production provides fundamental support for the companies that operate in this sector. If you want to know the benefits of having a software specifcally for the management of industrial manufacturing, read on!
What is industrial manufacturing?
This industry is formed by the set of processes and activities that aim to transform raw materials into finished products. There are many types manufacturing, depending on the products they produce. For its proper functioning, industrial manufacturing requires raw materials and machinery and equipment for its transformation. In addition, the quality of products and services has become a fundamental aspect for the growth of companies, as customers are increasingly demanding. There are different types of production, such as lot production, mass production, work production, etc.
Advantages of using industrial manufacturing management software
Betting on a management solution specially designed to simplify manufacturing operations is the best decision that a company in this sector can make. Software for the management and planning of industrial manufacturing provides many benefits, including the following:
Optimise commercial and financial management:
An ERP management software is the ideal tool to manage and organise the purchases, sales, treasury and accounting aspects of a company. By integrating all this data in one place, it is possible to carry out an analysis of this information to streamline decision making, save money, and have a global view of all the elements that make up the company.
This solution is based on the management of the purchasing department, the relationship with suppliers, invoices and purchase slips, the sales force, budgets, customer orders, etc. In addition, it offers complete control of lot numbers and expiration dates, as well as of collections and payments. On the other hand, it saves time and money thanks to task automation.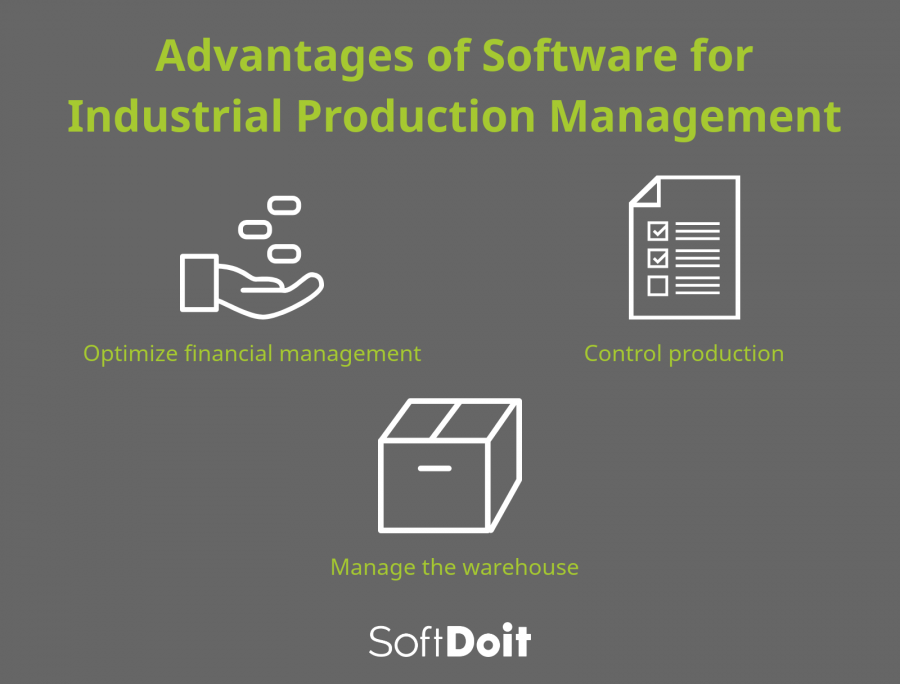 Control production and quality
In addition to simplifying and optimising the management of financial activities, this software allows you to improve the quality of the products in a remarkable way. Ensuring that production complies with current regulations is an aspect of vital importance in industrial manufacturing.
Therefore, in the treatment of raw materials and finished products, it is essential to exhaustively manage traceability through expiration dates, the place of origin, or the lot numbers. Additionally, all this data must be captured in the labeling process. Managing raw materials and defining more efficient production techniques allows you to streamline the production process, and you can generate reports to know the manufacturing costs and times. What´s more, this tool helps you offer a much better technical support service.
Optimal warehouse management allows you to improve inventory levels and adjust supply to demand. In this way, by always having the necessary materials, it is possible to avoid delays in the production chain. Thanks to the automation of the supply chain and the ability to obtain relevant information, companies can make more accurate decisions to offer higher quality products. In addition, they are able to detect points of improvement and identify the areas that work correctly. This software also allows you to optimise employee time, so that they can invest more hours in tasks that contribute more value to the business.
In short, with a solution to control and plan industrial production, you will be able to stand out from the competition and increase the performance of your business.
What is the best software to manage industrial manufacturing?
If you want to find the best software for the control and planning of industrial manufacturing, which also adapts to the specific needs of your company, SoftDoit can help you. How? Fill in the form on this page and we will send you a completely free and neutral ranking with the best options for you. We have already helped over 35,000 companies find the perfect software. Go ahead and try it, it will only take two minutes!