5 Keys to Getting the Most Out of Cloud ERP
In recent years, the vast majority of companies have sought ways to move from manual processes to the convenience and speed of computer operation automation. The current context created by technological trends, and the monumental amount of processes and data that companies can generate, encourages entrepreneurs to decide to implement ERP-type software in the cloud.
That is why the use of online ERP tools is growing by leaps and bounds. If not already the case, sooner or later your customers or your own company will need a solution that allows you to enjoy the benefits that the cloud offers without losing the benefits of traditional applications.
If you have made the decision to deploy an ERP in your company but don't know where to begin, SoftDoit can offer you some valuable advice about ERP software in the cloud!
What is a cloud ERP?
We speak of cloud ERP to refer to software that allows its users to access data and the management of their company through the Internet. Unlike other more traditional methods, the cloud allows you to connect to the software through any device, from anywhere.
Why use ERP software in the cloud?
The answer is very simple. The main reason to employ the services of a cloud ERP software is to ensure the mobility of your company. With this powerful tool you can:
Streamline all processes and have access to data 24 hours a day, 7 days a week, from anywhere.
No need for a physical office. Isn´t that great? All your employees could work from anywhere in the world.
Integrate all the departments of your company.
Easily manage raw material purchases.
Strategically manage the warehouse.
Save on computing infrastructures. All your work will be centralised in the cloud, therefore you do not need your own server, only Internet access.
5 keys to taking advantage of an ERP in the cloud
Although many refuse to accept it, the future is in the cloud. Technology is fully committed to cloud storage, and software is following the same steps. Don't know how to make better use of your ERP tool in the cloud? We offer you 5 keys so that you do not get left behind and instead get the most out of the functionalities of this great online tool:
1. Comprehensive management
Do you know what budget you are going to invest in buying next month's stock? Do you believe that your company is structured well enough to get the maximum profit? The first key to getting the most out of a cloud ERP is to be aware that you can manage all the resources of your company and get a much more general view of what you are investing money into, along with the results of said investment.
If you do not consider a general and complete vision of your business, managing it can become a huge headache. So, take advantage of the integration functionality so you can restructure your resources and maximise revenue.
2. Make decisions based on accumulated information
A good online ERP system gives you agreggated information accumulated over time. Since you can visualise your data in a very graphic way and automatically have complete reports, take advantage of all the information and make decisions based on it. This data can help you to be clear about where your business is going and what results or benefits you can achieve when making certain decisions.
3. Take advantage of the cloud's mobility:
It's nothing new, our society is increasingly mobile. Don't waste the great advantage of your ERP being online: you can access it and all its functionalities from anywhere, just with a username and password. Wether you are traveling or are at home, you can use it from mobile phones, tablets or any mobile device with Internet access.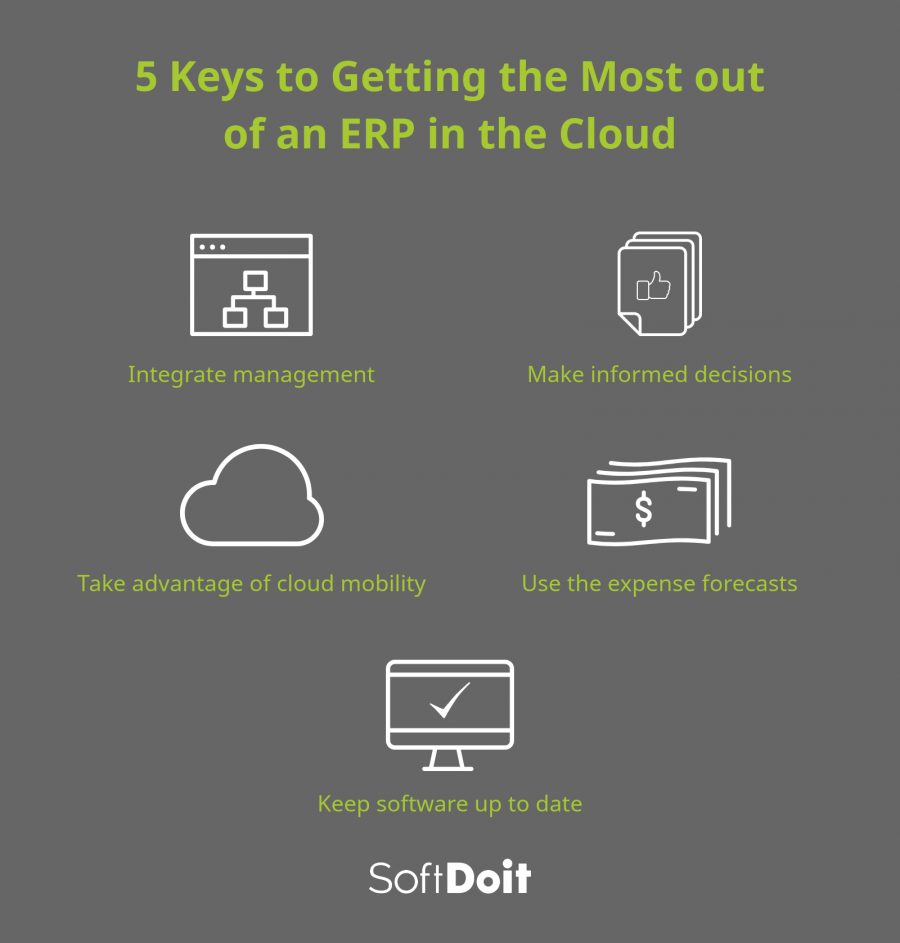 4. Use the management and costs forecast
Your ERP has enough data so that you can obtain reliable results on the management and forecasting of budgets and expenses. These forecasts can help you get an idea of ​​how much it will cost to start an additional business or what results you will get from purchasing more of certain products, and therefore, only invest in those things that are absolutely necessary and profitable for your company.
5. Keep software updates current
One of the great advantages of cloud ERP software is the absence of technical service. That is the reason why many companies choose them. In this sense, you should periodically check the available updates so that the performance of your program is at its best, and thus avoid any future technical problems.
Generally, the update of the cloud software is generated automatically and free, but to do this you will always have to allow the necessary permissions on your device. Check that there is nothing that prevents its update so that its operation continues to be optimal!
How can I get a free cloud ERP ranking?
If you want to get the free ranking of SoftDoit, and find your cloud ERP, the process is really simple. You just have to fill in the form you find on this page. Once we receive your answers, we will send you an email with the ranking of the best cloud ERP for your business. Our comparator analyses over 400 solution providers according to your needs. Go ahead and try it. It's easy, fast and free!