The secret to organization in your company: appointment scheduling software
It is not always possible to be aware of everything that happens in a company, whether you are online or offline. For this reason, we need the help of tools that provide support when it comes to scheduling appointments, projects, or any type of task that needs to be planned.
Order and organisation is everything in most businesses. Software that does not meet the needs of the organisation can turn the management of any data into chaos, and therefore, have a very negative impact on the company. If you are interested in getting to know some features, functionalities and advantages of this type of agenda management software, we invite you to continue reading, and, if you wish, you can get your ideal scheduling solution thanks to our free software comparator.
What can you do with appointment scheduling software?
Optimising, organising and managing your work time better inevitably results in a positive performance impact. Paper agendas are a thing of the past! Centralise all the information in one place, and better plan the work of your company.
With an appointment management software you can achieve greater performance and results, thanks to its practical features:
Manage personal and professional contacts
Customise each aspect of the appointment, event or task to be performed
Control appointments intuitively
Manage tasks and events
Create alerts and reminders for all appointments and events
Schedule an appointment with one of your contacts and send an instant invitation via email
Manage your entire personal agenda and calendar
Create and consult the list of pending and completed tasks
See a detailed history of each contact
Always have your agenda handy through a mobile app for your smartphone
Attach all kinds of files: images, contracts, spreadsheets, etc
Advantages of a CRM software for agenda management
Knowing what you need to do at all times is paramount, whether its arriving on time to meetings or simply getting a meal with friends. However, how is it possible to respond to all these commitments without a little help? Using software will give you the solution, and puts at your disposal a service to help you plan your tasks according to your availability.
As we have said before, a CRM software of this type is essential to keep your business under control and streamline all internal processes and responsibilities. For additional information, we present the advantages provided by scheduling software:
Link with contacts and companies to streamline work
Create visual agendas and update them instantly
Keep your entire schedule in the cloud and never lose information
Prioritize tasks based on which are most important, using color-coding and other organization methods
Block hours so that no more appointments or tasks can be scheduled
Synch with other calendars and online agendas
Import contacts from Outlook Express, Eudora, XML, CSV, vCard and Netscape / Mozilla and export them to CSV, Excel, and XLM, amongst others
Easily contact customers through direct links or "Skype"
Schedule pending appointments and manage them from anywhere
Send reminders of future appointments to customers or employees of your company
Easily access team-members calendars to better organize appointments and avoid duplicating work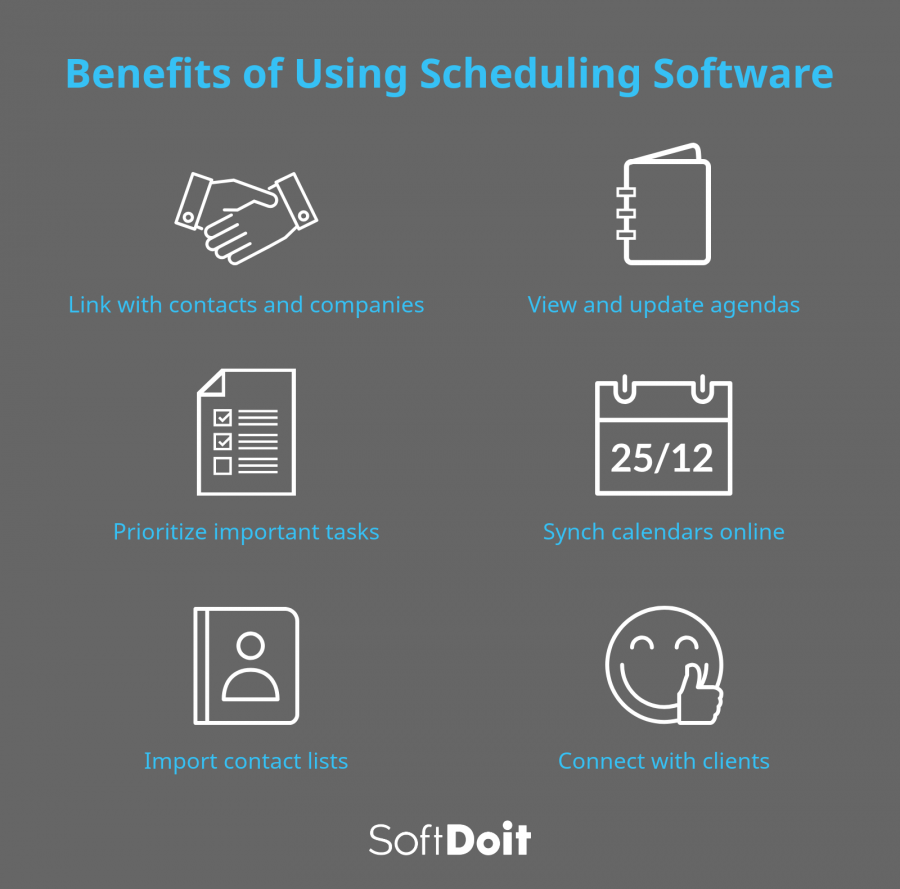 Whatever your business model, whether you are a large company or independent worker, you can obtain a solution to optimise and organise your time using schedule management software. Do you want to get one adapted to your needs? Keep reading!
Get your free comparison of appointment scheduling software now
If you do not know which agenda management system best fits your business, fill in the questionnaire you will find above. In two minutes we will send you a personalized and free ranking with the three most suitable options for your company, comparing from over 400 solutions from our suppliers. It is fast, neutral and very simple. Over 35,000 companies have already used our service. Don´t wait any longer to try it!