The purpose of any business is to attract customers, retain them and close the highest volume of sales to maximise the profitability of the company. If you want to boost the commercial strength of your company and control the activity of your customers, a sales management software will be very useful. A marketing and sales solution provides essential functionalities to manage clients and detect business opportunities. However, each company operates in a different industry and has its own characteristics. Therefore, it is crucial to find a program that fully adapts to the profile of your organisation.
SoftDoit will help you discover which sales software is the best fit for your company, depending on your preferences. We offer you a 100% free and neutral comparison with the best sales software for your business, based on your needs.
What is sales management software?
A sales program is software to keep track of the client portfolio and manage the commercial activity. This tool is designed to manage customer information, automate sales processes and offer higher quality service. If you want to discover more about this solution and know its main uses and benefits, read on!
How can sales software help you?
A CRM sales software will allow you to efficiently manage the database of your current and potential clients, and at the same time track them to create loyalty. Some of the most important utilities that a tool of this type offers are detailed below:
Store and manage company and contact information
Record phone calls and send emails
Centralise management of all sales department data
Control sales representative work and daily routes
Send email marketing campaigns with discount coupons and promotions
Know the negotiation status with each client at all times
Conduct studies of the applied promotions and evaluate their effectiveness
Assess each situation to follow different sales strategies
Know your customers better and discover what their preferences and needs are
Offer a more personalised and higher quality service
Perform a calculation of the sales forecast periodically
Discover the benefits of using a commercial management and sales tool
With the implementation of software specifically for the sales department, you will be able to maximise the potential of your commercial strength and keep track of your clients. Thanks to the use of a program of this type your company will benefit from the following advantages:
Increase the profit margin and obtain reports on the sales index
Optimise transactions and increase the number of sales significantly
Integrate different sales channels in the same application to improve commercial capacity
Streamline business processes and identify sales opportunities
Obtain statistics to know your strengths and points of improvement
Segment databases correctly to increase the effectiveness of marketing campaigns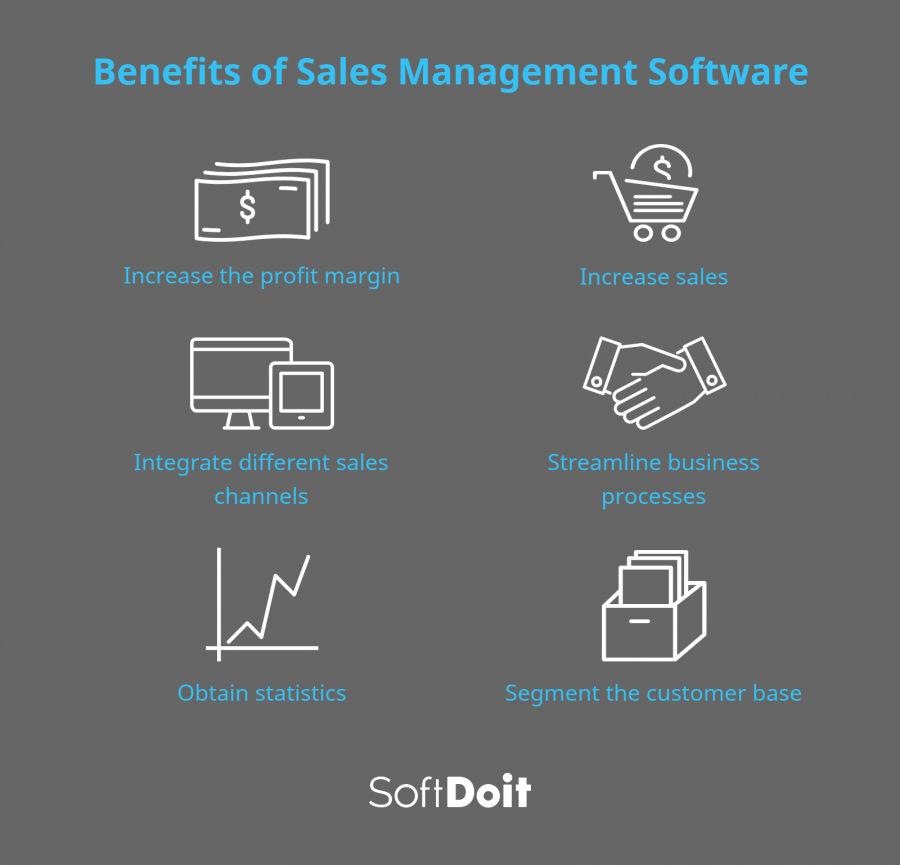 Get your free ranking of the best CRM sales tools
As you can see, with the implementation of the appropriate CRM sales software, you will be able to increase your profits and have total control of your sales activity. But finding the system that best suits the specific needs of your business is a slow and complex task.
If you would like to save time and money in the search for a program, SoftDoit can offer you a personalised comparison with which you will discover the most suitable solutions. To get your ranking, just fill in the questionnaire above with your preferences. In a matter of minutes, we will send your comparison that is 100% free and neutral. Go ahead and try it, it will take two minutes and you will make the right decision!