We find ourselves with a software that is vital in the world of marketing, since it allows us not only to know our client, but also to agregate all commercial tasks in one place, optimising resources and reducing costs.
CRM marketing software is an important tool to know first-hand the products your customers are looking for, manage all your commercial activity, control sales, and measure and evaluate the results. That's why SoftDoit wants you to find your CRM and start using it as soon as possible.
What is CRM marketing software?
The main objective of a CRM (or customer relationship management) program is the storage and integration of data from all company customers. In this sense, the company can access this information at any time to meet the needs of the client, or simply to obtain market reports that help create a marketing plan with which actions are implemented and effective commercial strategies are captured.
CRM marketing is a tool that will make your business progress, significantly improving the functioning of the marketing department, since it allows you to collect any type of commercial documentation and offers you the possibility to analyse, and even self-evaluate, the development of your business.
What are the functions of marketing software?
Next, we tell you about the benefits and utilities that you get when you use marketing software in your company and direct your business strategy towards the client:
Easy and fast implementation
One of the most valuable factors when selecting software is the speed and simplicity in its use and execution.
Always accessible
If your software has an app for smartphones, you can synchronise operations with your mobile device.
Unify all databases
You can integrate thousands of Excel content in one place, or other files of any format. Your database will become one, completely standardized.
Cross-check and analyse data in a simple way
According to what you need, your information will be organized and/or analysed with just a click. You will be able to cross-check data, which will help you better stear your decisions towards the market.
Segment your contacts and detect opportunities
The software will be able to segment the information entered by you (according to location, sex, means of capture, etc.), to will help you to detect better business opportunities according to the needs and characteristics of your customers. Thus, your marketing actions will be more effective.
Integrate CRM and mailing
By cross-checking data, you can perfectly integrate these two systems and double your opportunities.
Cloud-based CRM
If you use a cloud-based CRM, you can access the platform quickly from any device and place.
More control over the life-cycle of the client
Your software will give you the opportunity to understand the real life-cycle of your clients; the time spent with you, the type of cross-selling or upselling you will do, etc.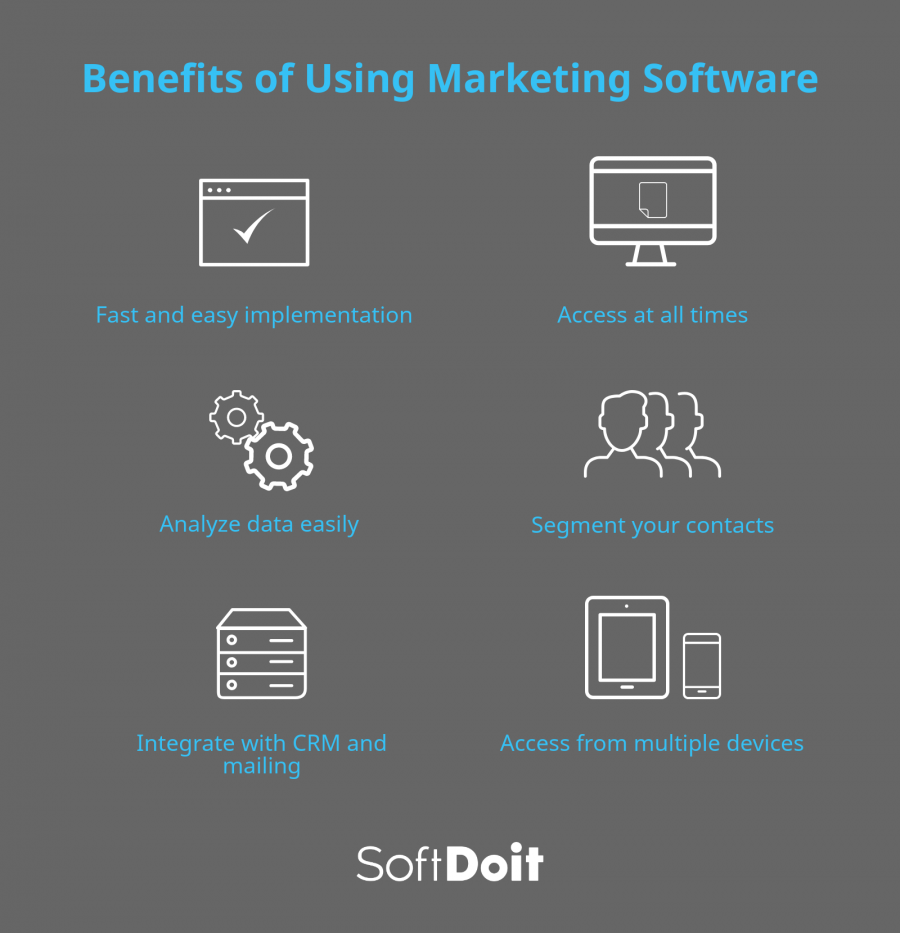 Find the ideal marketing CRM for your business
Nowadays you must be able to anticipate the behaviour of your customers, predicting their needs, preferences and tastes, without having to chase them to find out. This is where the importance of CRM Marketing lies, since you will build more and better relationships with your customers with a tool of this type.
If you want to have absolute control of the data of your clients and projects, in order to achieve more efficient processes, we will help you find the program that best suits you and your type of company. The only thing you have to do is complete the form that appears above. Shortly you will receive a custom software ranking so that you can reach your goals by choosing the right software.