Are you looking for the best CRM program for your business? A customer management system is ideal to retain current customer loyalty and attract potential customers. Additionally, with this tool you can measure the effectiveness of your actions to achieve all your goals.

Finding a solution that meets the specific requirements of your business is not easy and can be a waste of time and money if you do not make the right decision. In fact, 60% of companies fail at deploying software, because they do not take into account all the factors.

With the SoftDoit comparator you will discover which CRM program adapts to the needs of your company. Take two minutes to fill in the form on this page and you will receive a personalised comparison. Our comparator is totally free and neutral.
What is CRM software?
CRM (Customer Relationship Management) software is a software program that allows the organization of the commercial strategy of companies, as well as their relationships with current and potential clients. A CRM is a tool aimed at boosting sales and customer loyalty. Next, we detail the utilities, benefits and the most outstanding modules of this solution.
What are the main functionalities of CRM?
CRM software is an essential tool to improve customer service. In addition, it will help you integrate the marketing, sales, communication and advertising departments. Some of the main functions of this system are:
Manage the sales process of the company in each of its phases.
Manage billing easily.
Manage and segment customer databases efficiently.
Analyse the marketing campaigns carried out to facilitate decision making.
Know the preferences and needs of customers perfectly.
Improve internal communication amongst team members.
Manage all kinds of inquiries and questions from customers more quickly.
Benefits of using a CRM system
Choosing the best customer relationship management program for your company that really meets all the needs will allow you to be more productive and differentiate yourself from the competition. It is also a key element to attract potential customers and build loyalty. These are some of the main advantages of CRM:
Generate and manage lists of clients or potential clients.
Understand the needs of customers and potential customers.
Anticipate and respond to these requirements.
Improve the relationship with your target audience and build loyalty.
Segment different groups of clients based on their characteristics such as their behaviour or geographical location.
Monitor the marketing campaigns carried out and evaluate their effectiveness through reports and statistics.
Organise, automate and synchronise business processes that are related to customer service.
Close a greater volume of sales and increase the profit margin.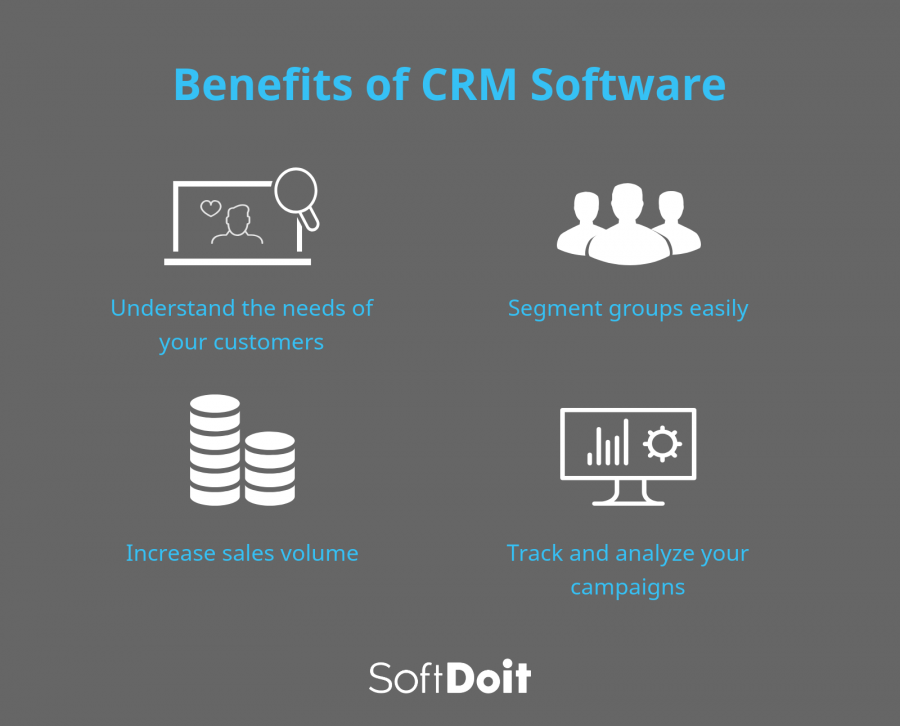 Which modules to integrate with CRM?
It is possible that your business was once an SME, but that over time, has grown and now you need software that offers more features. If you do not want to invest in a new program, you can integrate different modules to your current system to meet those needs. There are multiple possibilities of integration for this type of system. However, the most common extensions are those mentioned below:
Sales module: It is ideal to manage the actions of the commercial department and track sales. On the other hand, it also allows you to identify potential clients and create a complete data base with all your contacts.
Service module: This extension allows integration of all client information to better understand their tastes and needs. In this way, you can offer more personalised attention to your target audience and retain your customers.
Marketing module: This module is very useful to know what products your customers are looking for and create more effective communication campaigns. It is a perfect tool to establish a long-term relationship with your target audience. In addition, it allows you to segment the contacts in your database to make different deliveries.
Reports and scorecards: Allows generation of reports to know the performance of the company and have a global vision of its state. In addition, it analyses the productivity of each one of the departments daily, to know their evolution.
Market module: It serves to recognise marketing opportunities and create different strategies in order to increase the number of sales. It also allows you to track sales opportunities and plan actions.
Social CRM: Social networks are increasingly used and can be very useful for attracting new customers. This application allows the integration of social network information in CRM. This module facilitates the work of the sales, marketing and customer service departments.
Why customer relationship management cloud deployment?
To increase the volume of sales and the performance of your company it is essential that your salespeople can access the business information at all times., Installing a CRM in the cloud has several advantages it will allow you to consult the company's data from anywhere, but that is not the only advantage offered by a cloud solution. With cloud-based client management software you will also have the following advantages:
Know the relationship status with potential and current customers.
Generate a track record to consult and make better decisions.
Consult the information from any device with an internet connection.
Save on implementation and maintenance costs of the application.
Make backup copies and automatic updates on a regular basis.
Reduce the volume of documents in the company by storing all the data in the cloud server.
Discover for free what CRM software is best suited for your business
Finding the system that fits the profile of your organisation can be complicated, since there are many types of solutions in the market. If you want to discover which is the best CRM program to retain and generate loyalty in customers, and attract potential ones, at SoftDoit we can help you. Fill in the form above and you will receive your personalised comparison with the best CRM software for your company. You will save time and money in the search and you will make the right decision. According to SoftDoit and ATI's annual report on the current and future state of software in Spain, about 44% of companies have CRM software.
Our comparator analyses oer 400 solutions and selects the three that best respond to your requirements. Over 35,000 companies have found the best solution for their business thanks to SoftDoit. Do you want to join them? Wait no further. The service is 100% free and neutral. Fill in the questionnaire now and find out!
Resources and articles about CRM