Find the best incident management software for your company
Every business dedicated to the sale of products or services must manage customer complaints and inquiries on a daily basis, and as quickly as possible. An incident management tool is a great support when it comes to managing these requests and resolving issues. Thanks to a ticketing system you will be able to respond with greater agility to customer requests, so that they may be completely satisfied with the service received.
There are many solutions to resolve incidents available on the market, and consequently, finding the one that best suits the characteristics of your company can be a complicated task. At SoftDoit, our main objective is to help you find the ideal software so that you can manage your customer queries more efficiently. Therefore, we encourage you to use our free and neutral comparison service, with which you will obtain a personalised ranking with the most suitable incident ticket software for your business.
What is incident ticketing software?
An incident management tool is software that serves to manage queries and problems reported by both customers and employees of the company. These types of solutions are fundamental to provide exceptional customer service and improve the internal communication of the company. In addition, this program records the data of all incidents, with solutions to the most common problems and other relevant information.
Discover the main uses of an incident management system
Ticketing software is an essential program to optimise the resolution of problems and the requests of users. Below we detail some of the basic functions of incident control software:
Automate the management and assignment of queries to the indicated technician.
Receive notifications when a customer sends a new ticket with a request.
Configure default automatic responses to the most common queries.
Simplify ticket search through filters, based on different parameters.
Offer multiple customer service channels: telephone, chat, email, etc.
Obtain reports with information about the volume of queries and know what the most common incidents are.
Automatically convert received emails into service tickets.
Receive notices periodically with all pending queries to manage.
What are the advantages of using an incident management tool?
An incident management tool provides the necessary functions to speed up the troubleshooting times processed by customers. This software also optimises internal communication, allowing you to manage the queries of the employees of the company. Additional notable benefits offered by this type of software are the following:
Integrate the administration of all query tickets in a single application.
Offer customer service of unsurpassed quality.
Track each incident to know its status.
Designate issues to the experts best suited to solve them.
Distribute work more efficiently and improve business productivity.
Have data on past incidents to anticipate and prevent them from happening again.
Simplify the daily tasks of those responsible for customer service and enhance their performance.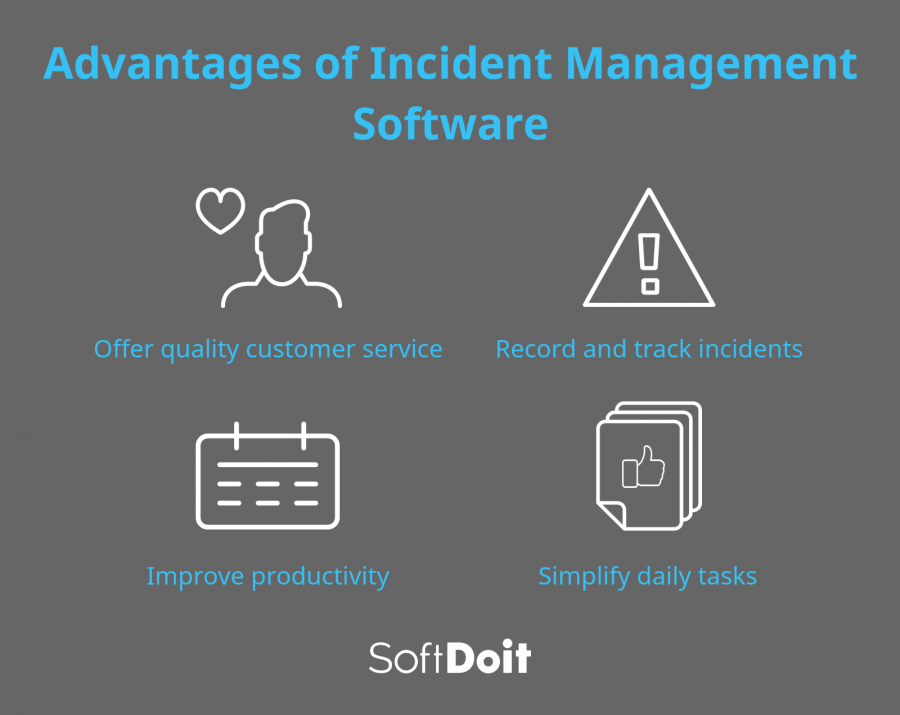 Find out which incident ticketing software is ideal for your company
With the deployment of the appropriate incident management software, your customers will feel more satisfied with the service received, which will increase your benefits. If you don't know which software is the most appropriate to manage the queries of your consumers, use our free comparison to clear any doubts.
Answer the questions in the form that you will find on this page and in two minutes you will obtain a personalised and neutral ranking with the best solutions for you. Our platform will analyse the requirements of your company in detail, to offer you the closest possible solution. Over 35,000 companies have already benefited from the SoftDoit comparator and have found their ideal incident ticketing software. Do you want to be next? Do not waste this opportunity, our service is 100% free and neutral!