Find the best email marketing software to reach your customers
One of the actions that will bring better results to your marketing strategy is to run a good email marketing campaign.
Users are demanding, and do not pay attention to just any email they receive in their inbox. For this reason, there are many email programs that can help you implement your strategy and get much more notoriety and visibility.
Are you not a design professional but need to create emails easily and intuitively? Do you need to automate mailings because you do not have time? Are you looking for an all-purpose mailing software that suits your needs? Let SoftDoit help you.
What is a mass emailing program for?
Choosing the correct email program will provide the solution to many of your problems. If you have just made the decision to get a tool to help you create emails, or if you are still thinking about it, pay attention to its functionalities. There are many that can be very useful!
Design your own email or SMS campaigns
Without necessarily being an expert, you can create emails with modern designs and easily include images, videos and CTAs to make your newsletter attractive and desirable to your recipients. If you wish, you can also use the preset templates provided by your application and simply modify those sections that interest you, or create SMS with promotions and discounts to avoid saturating the user through the email channel.
Manage your contacts
The email marketing tools will help you with the segmentation of your audience, giving you the option to classify your contacts in groups according to their characteristics and needs. In this way, you can launch campaigns that are more focused and, therefore, more successful.
Automate your mailings
Through some existing studies, we can know the hours in which our emails have a higher click rate. Wouldn´t it be great to schedule automatic sending at certain times of the day to achieve your goals? Automation will do a lot for your business, as it can respond to and send emails for you according to user behaviour.
Maintain continuous contact with customers
Email marketing and social networks can go hand in hand in your marketing strategy. You will be able to find mailing applications that allow you to incorporate the logos of your social networks, as well as a contact email, or phone nubmer, in case customers want to talk directly with you or your team.
Get results from your campaigns and analyse your results
Using a bulk email software can help you instantly obtain statistics and graphs with your campaign results. In this way, you can take into account information about your email openings, bounce backs, and click rates for future decision making.
What are the advantages of using email marketing software?
For many companies, email marketing continues to be a great unknown. When used properly, a system of this type can become a very powerful tool that will help you increase the conversion rate of potential clients to real clients. Having the email of your users can be very good news for your company, since they have given you information that provides a direct way of communication with them, through emails and newsletters.
Some of the many advantages of using email software in your business are:
Increase the current functionality of your company
Provide fast and efficient technical support
Easy-to-use software
Automation of most processes
This channel has the highest return on investment (ROI of 4308% per euro invested)
Instant detailed reports and statistics
Good deliverability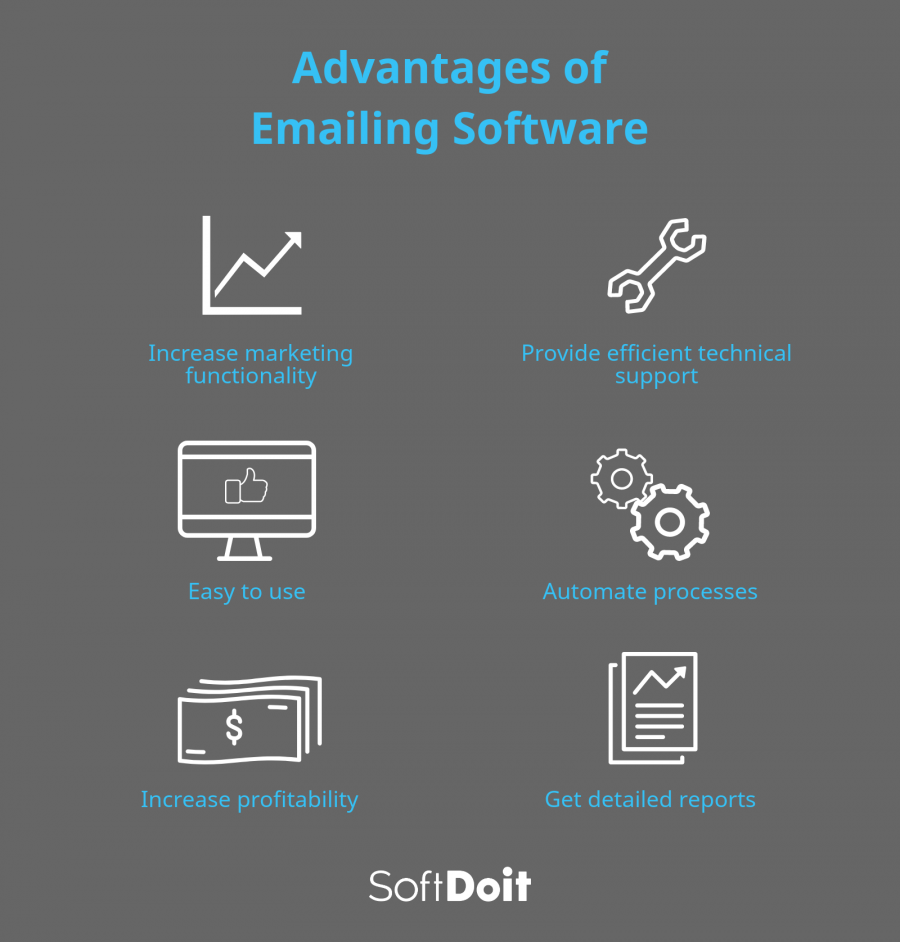 We have the perfect mailing software for you
Are you willing to use mailing software? We are sure that you have plenty of reasons to get on the email train. Email marketing, contrary to what many people think, continues to strengthen and reinvent itself in the business world.
At SoftDoit we can offer a 100% free and neutral list of the best email marketing software that best suits your type of company. To do this, we only ask for a minute of your time to fill in the form of our comparator, and almost immediately, you will receive the software ranking you need.