Customer loyalty software: the system that improves your service
Carrying out a customer loyalty strategy means knowing how to stand out from the competition, providing news, offering improvements, and ultimately, providing a better service. Thanks to the importance placed on this part of the business marketing strategy in the last few years, a large number of customer loyalty software has been developed, designed specifically to provide more, and better, services that help pamper the customer.
With a loyalty strategy not only can you retain old customers but also get new ones and attract potential ones. If you use the appropriate customer loyalty software, you will ensure comprehensive management of the sales environment. Are you interested in learning more? Do you want to know how to find your CRM software for customer loyalty? Keep on reading!
What is customer loyalty software?
One of the main challenges in customer-oriented companies is to locate practical and effective marketing methods that build bonds between the client and the company itself.
From this need, software focused on customer loyalty emerged: tools designed to help companies obtain, retain and create loyalty in their customers. In this way, you can design and deploy your customer loyalty software, managing them quickly and easily.
Functionalities of customer loyalty software
Customer loyalty software will help you carry out promotion and loyalty activities to keep your customers as close as possible to your business. This and other types of activities will allow you to attract and take care of your consumers. In addition, you can also:
Conduct thorough monitoring of your business consumers
Reward them with products or discounts based on the purchases they make
Create campaigns using different methods such as redeeming points for gifts
Depending on your type of business and the objectives set, you will be able to combine different strategies and perform perfect management of all your marketing activities. Your sales will soon increase!
Advantages of customer loyalty software
If you still have doubts about whether to get loyalty software for your clients, here are some advantages that will help you decide:
Detailed information about your customers and their purchases, which gives you the opportunity to influence purchasing habits
Sales stimulation through continuous multichannel interaction with your client
Establish an unlimited number of cross-promotion and upselling methods
Creation of fully customised promotions that will generate an increase in customer spending
Estimated calculation of costs for obtaining customers, as well as for improvement of retention
System for customer prizes or rewards, according to the SKU (Stock Keeping Unit)
Option of using proximity marketing as a more accurate and direct way to reach your customers
Access to the full history of customer transactions and system operations
Monitoring of marketing activities, and evaluation and analysis of the customer loyalty program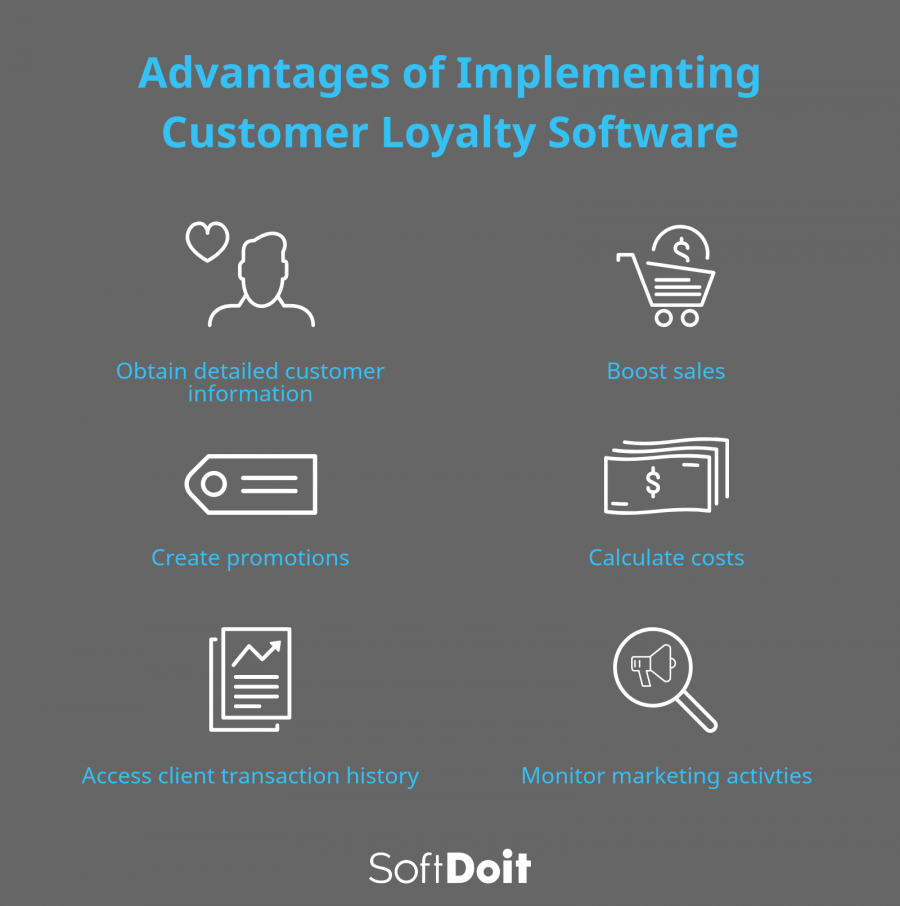 Would you like to obtain a comparison of software for customer loyalty?
Every business must try to keep its best customers, and the activities of customer loyalty strategies are directed precisely towards this objective. A customer loyalty program will help your business grow, but it also allows you to maintain a fixed income throughout the year that allows the sustainability of the company.
The deployment of customer loyalty software will allow you to always be present in the life of your consumers. What are you waiting for to use the free SoftDoit comparison? You can find the right program for your business in less than two minutes. Our service is free!