Don't know what the best tool to create a sales quote is? Do you need a CRM that will help you prepare estimates and quotes for clients? Would you like to speed up the creation, modification and sending of budgets?
Continue reading and learn more about the advantages that this CRM functionality can offer, since it offers a more controlled management of your company's price quotes, and allows you to manage of client portfolios more appropriately and effectively.
How CRM helps with price quoting
CRM, as we have previously introduced to you, is also a useful tool for quoting, because it optimises quote creation times and helps you streamline the process, especially if your company has a large volume of customers.
One of the first things you should do to create a quote or estimate using CRM is to enter all your information into the program to create the database. Once all the information has been entered, all the data on the client must be added so that the CRM can create a budget tailored to the client.
Benefits of creating quotes with CRM
There are many advantages to creating quotes with a CRM. Next, we will tell you some benefits that you can enjoy with a software to prepare estimates and quotes:
Streamline all financial tasks
This is important because it allows you to efficiently make quotes and balance the financial department of the company.
Ensure order fulfillment
It allows you to identify which tasks are most important to perform according to the delivery date. It's essential because it helps you meet the deadlines established with your customers and optimise time.
Organise each of the company objectives
It´s fundamental for the company because it allows you to control what you have to do, and when.
Avoid cost overruns
When you create a sales quote, you are also calculating the cost that you assume. With that in mind, you can reduce expenses, avoiding dispersion in the production or distribution.
Create customer loyalty
After you have been able to provide a good service, the clients are happy, therefore you are able to engage them and create loyalty.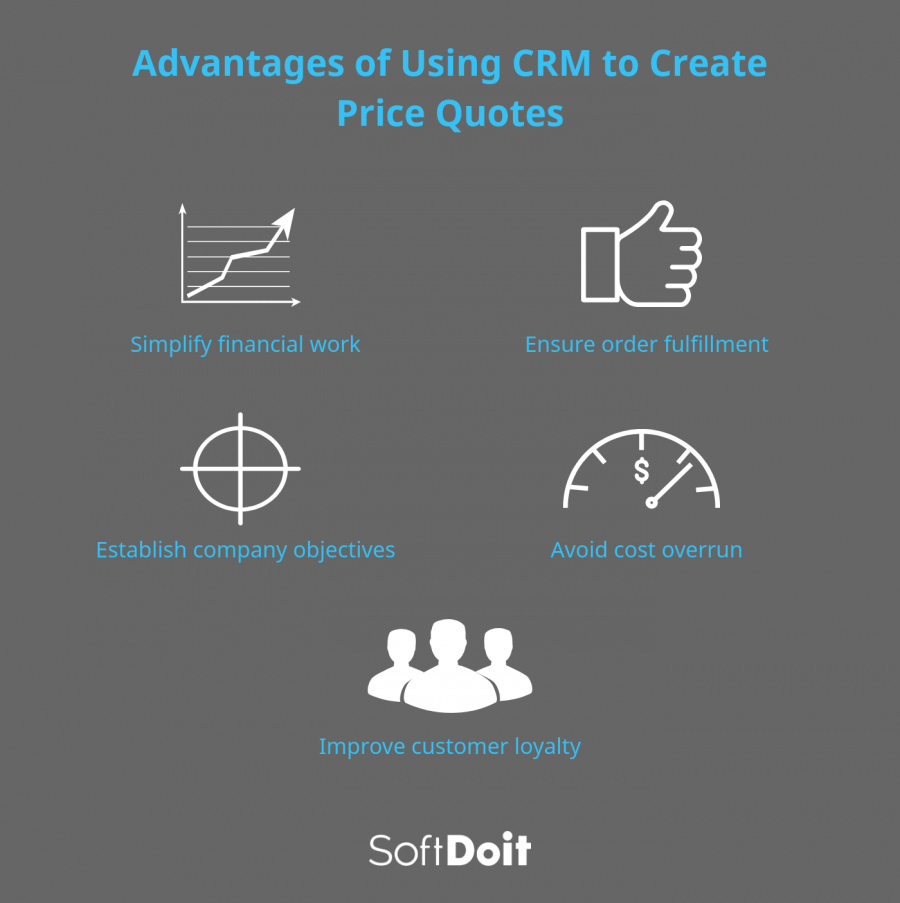 What is the best solution to create quotes for your company?
As you can see, incorporating CRM is very important and offers many advantages for companies, including when it comes to creating customer price quotes. Trust SoftDoit and fill out the free and quick form, and we will offer you a neutral ranking with the quoting solutions that best suit the characteristics of your business. Join over 35,000 companies that have already tried our comparator.