Why is CRM Essential in After-Sales Service?
After-sales service consists in continuing to offer personalised attention to the customer after the sale has taken place. A good after-sales service is one of the best ways to create loyalty to your company, which is why it should be taken care of and managed in an optimal way. To do this, there are ways to improve service, and one of them is through the use of CRM software. Why is CRM becoming such an important tool in after-sales service? We tell you below.
What features does after-sales service offer?
Once the purchase has been made, there are some specific aspects that you must manage so that the relationship with your customer is maintained in optimal conditions. These features that the after-sales service takes care of are the following:
Personalised communication: Your customers will appreciate that you make a personalised follow-up regarding their experience with the product they have purchased.
Support: It is very important that you offer help and be able to offer quick solutions to any issue that may arise with the product you have sold. This also includes maintenance, especially in electrical products or those that require a specific installation.
Trust: Your customer has to be sure that all guarantees are covered for the product in case something unexpected occurs, in case there is a need to make changes or returns.
Offers: Discounts and offers are a great technique to get a second sale or to build loyalty and reward the commitment of regular customers. Giving reward to regularity will always bring you benefits.
Why is it important to use a CRM solution for after-sales service?
Having a post-sales CRM in your company will offer you a large number of functionalities that will increase the competitiveness of your company. A customer service software will allow you to do the following:
Manage databases with the main information of customers.
Have a calendar to plan all after-sales actions.
Increase the satisfaction of your customers and contribute to the reinforcement of the brand image.
Speed up the resolution of incidents and offer immediate answers to queries.
Manage the commercial and after-sales team efficiently.
Offer personalised support through any channel, either online or offline.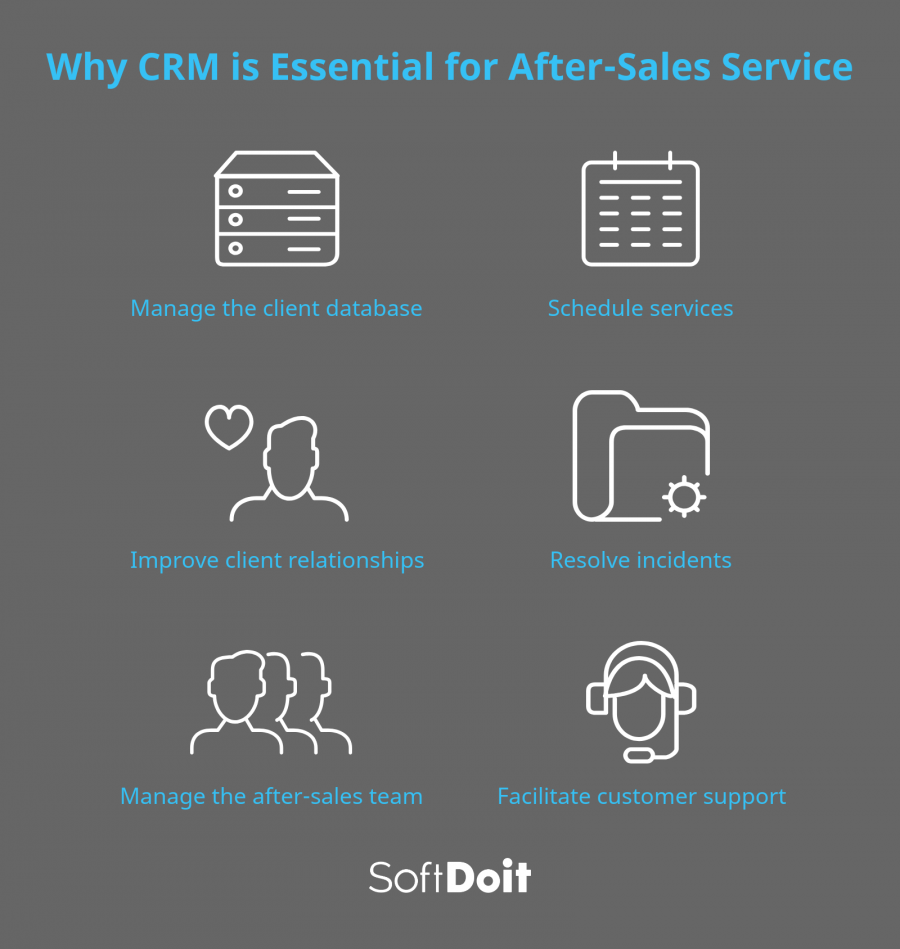 Benefits of using CRM software for after-sales service
This solution not only helps you to retain your customers, but also to improve the internal management of your customer service to achieve it. The result is a connected, collaborative and integrated company.
Amongst the benefits that CRM after-sales software can provide your company include the following:
360º vision of customer service.
Higher levels of service quality and reduction of associated costs.
Maximum efficiency in incident management.
Planning and programming services as accurately as possible.
Faster, more accurate services adapted to customer's needs.
Increase the level of satisfaction thanks to personalised attention.
Automatic tracking of dates and contract renewal details.
Ask for your CRM comparison and improve your service and customer support
If you want to discover which CRM post-sales software best suits the requirements of your company and your customers, use our neutral and free comparator. Complete the form on the website and we will send you a ranking with the most suitable options for you. Don't miss this opportunity, the SoftDoit comparator is fast, free and neutral!