11 Advantages and Disadvantages of CRM
Customer relationship management software (CRM) allows companies to take advantage of the data they collect every day. CRM software can track sales, locate trends and automate many of the interactions that occur in the company on a daily basis.
There may be the widespread idea that CRM software is a necessary investment for any type of business, large or small, but that is not true in all cases. The advantages of CRM can be many, but there are also some disadvantages that we consider fair to let you know before making any decision.
If you are thinking of this type of software as a solution for your business, but can´t decide just yet, we offer you a series of advantages and disadvantages of CRM, so that you can determine what is best for you and your company.
What are the advantages of CRM software?
Everything you need is in one place
The management of customer relationships must be centralised to be effective. The data that is collected must be available to all people who need it. With a CRM solution, everyone can be automatically on the same page, since everyone has access to the same information. This fact allows workers to be more productive, since they can focus better on meeting the needs of current and potential customers.
CRM is a solution that is capable of scalability
If a company wants to survive, it must have a growing database of customers who appreciate the value proposition offered to them. As the number of customers grows, it becomes more difficult to meet specific needs on a personal level because each interaction has a particular time investment that must be made. This software is a scalable solution that adapts to almost any budget and will only grow as the company grows so that all needs can be met effectively.
It allows for the extraction of data in an easy way
We are not only talking about customer data, but also about specific sales reports and other analysis that can help your company discover what is working. Managing customer relationships allows people to discover where they are progressing, but without the same amount of time to collect that data, creating an environment where adjustments can be made almost instantly.
Access the data from anywhere
This CRM advantage has not always existed. In the past, the only way to access CRM was to install the software on a computer. To be mobile, all you could do was install it on a laptop. Thanks to the cloud, Internet saturation, widely available 4G data and VPN capabilities, a secure connection to the software can now be obtained from virtually any location and device. This allows salespeople to remain in their position for longer, which could increase their conversion rates.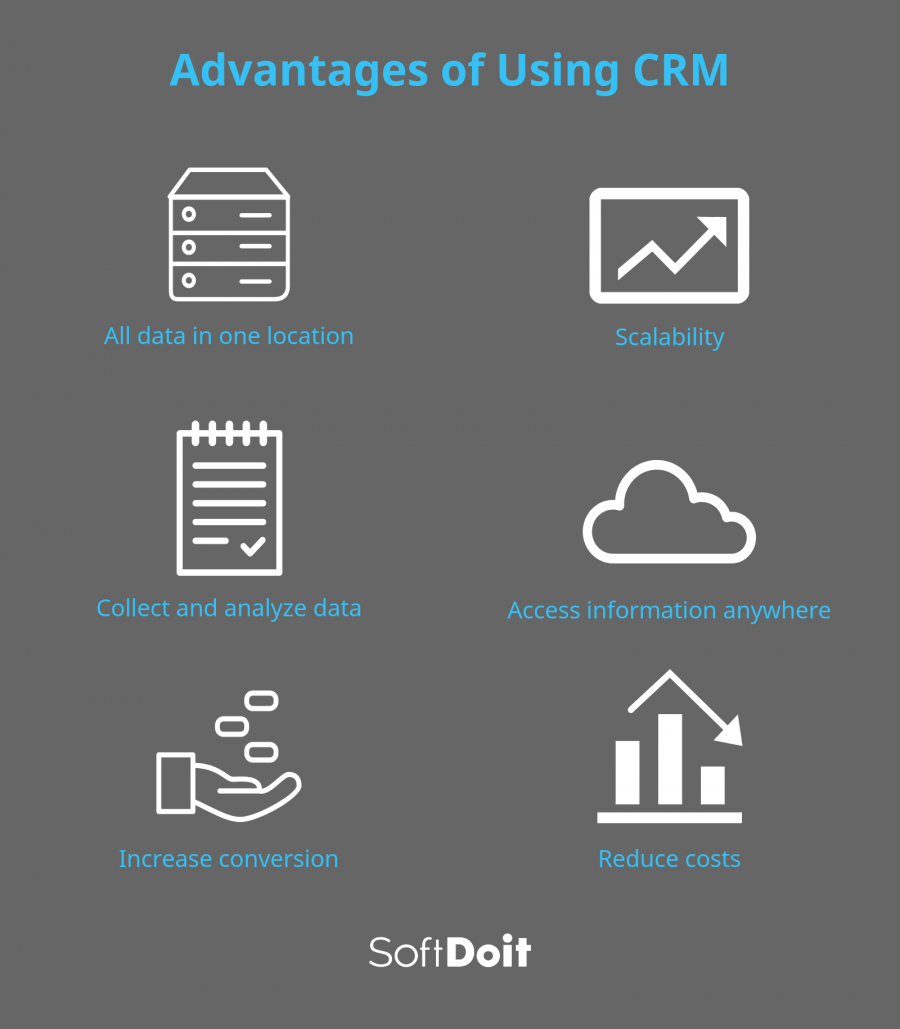 A good CRM can accelerate the conversion process
When it comes to managing your sales process, especially if you opt for the Inbound Sales methodology, it is essential that you create a sales funnel for your sales team to follow the necessary commercial stages and processes. With an organised methodology, you will be able to integrate the activity of each vendor in the CRM. In addition, the commercial team will be able to manage the development of each negotiation, the activities that have already been carried out, and the next steps. Consequently, the conversion will be accelerated.
Reduce the total daily costs of your company
Since all the data is centralised, costs go down because productivity increases. No more losing paperwork, missing files and other events in which consumers leave, because the only way that something is not in the CRM is if it has not been entered.
What are the disadvantages of CRM software?
Eliminate the human element from the equation of your company
Processes are automated when the CRM software is installed, which also means that the potential customers lose part of the human element that the commercial task sometimes requires. There is a difference between being assisted by a real person when making a phone call than by an automated customer service system. Sometimes it is good to make tasks more automatic, but it is also good to have a little personalised help to avoid losing the value of the human element.
There may be security problems with the CRM software
Although this software solution is secure, the fact that the data is stored in a centralised point creates a threat for any company that implements a CRM solution. What happens if the power fails and your software does not retain data in the cloud? Or what happens if a disgruntled employee enters data that is not accurate as a way to retaliate? There must be backup and monitoring systems so that the integrity of the data can be maintained.
Employees must go through a training phase with the new system
The installation of new CRM solution can be very exciting. The idea of ​​automating many processes and streamlining data can be very appealing. But then the implementation process arrives, and everything changes. Although these systems do not require an expert, the staff can take time to get used to it and learn how to use the new software.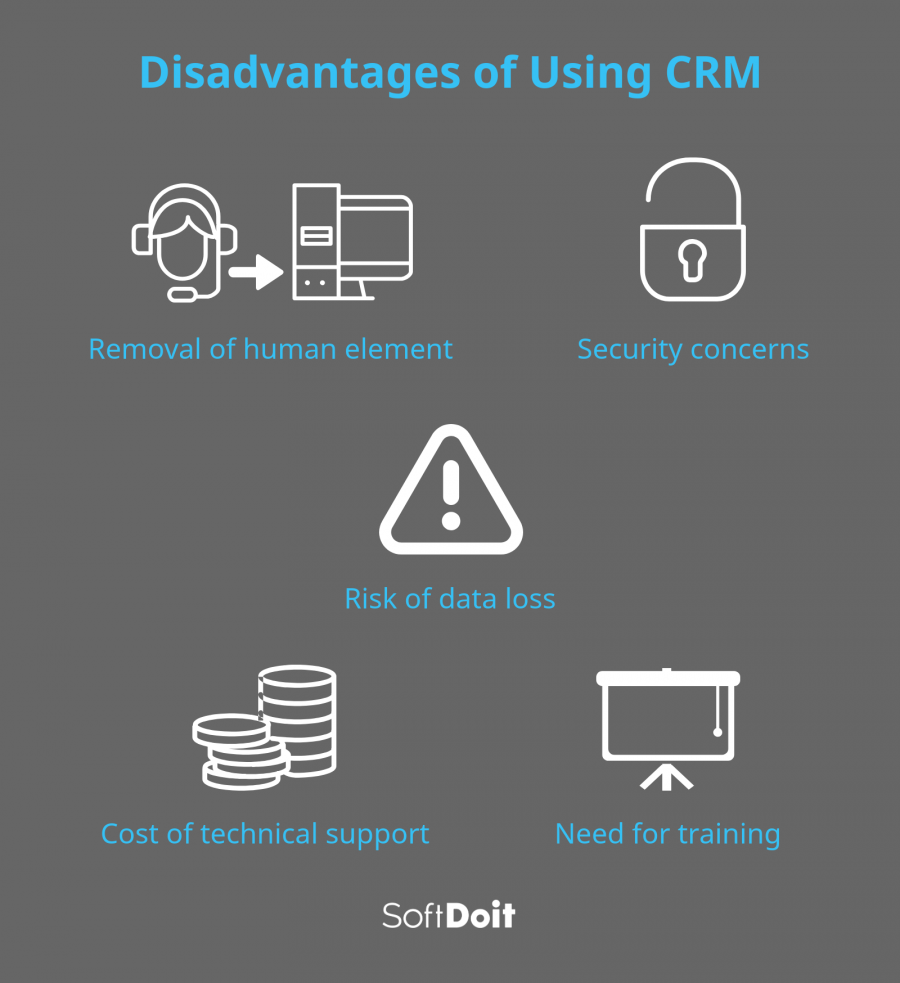 Once everyone knows how to manage the software, the advantages of a CRM can be enormous. But without a doubt, there will first be a period of adaptation and learning that may delay work.
Two words: technical support
Companies have two options available for CRM technical support. They can hire their own specialists to deal with the software or outsource this work to another person. Many companies that provide customer relationship management solutions offer assistance, but at a higher price. Buying the software also means taking into account the costs of technical support. Many forget about the ongoing support costs that come with CRM software if it is not cloud-based, and that can be an unpleasant surprise when issues arise.
Data may be lost if the database is not kept properly
Many CRM systems are automatically backed up through the cloud or by some other solution, but not all systems do this. It may be necessary to make a manual backup of the data and, if we know that it does not happen regularly at all times, there is a good chance that some data will be lost. In the worst cases, even cloud systems can fail if there is an issue with the Internet connection or the server at the other end.
As you can see, there are more advantages than disadvantages in the use of a CRM. In the case of disadvantages, we believe it is relative, since perhaps, for your type of business, these are not negative, but an opportunity.
Are you looking for CRM software?
If knowing the advantages and disadvantages of a CRM has not brought you here, or if in spite of them you are clear that it is the solution that will most benefit your company, we want to help you a little more: SoftDoit offers you a very easy questionnaire to fill in so that you can instantly know which solutions are the most suitable for your business. Our comparison service has helped over 35,000 companies through its neutral and free service. Do you want to be next?