Management consulting software: everything you need to know to choose the best one
Do you want to manage all the movements of your consultancy or agency and optimise the internal management of your business? A software for management consulting companies is a key tool to integrate all the areas of your office and keep track of of your clients. In addition, with a tax system you will guarantee the security of all the confidential data of the company.
However, finding the right program for your management company can be a slow and expensive process. In addition, over half of companies fail to deploy a software, so the risk of making mistakes is high. For this reason, at SoftDoit we offer you a free and neutral comparison with which you will find out which software best suits your business.
Learn about the main features of a solution for consulting agencies
A software for management agencies and business consultancies will allow you to automate tasks and have access to the legal information of your clients at all times. With the implementation of a program for accounting and financial administration you will have the following basic functionalities:
Manage VAT taxes, as well as the Personal Income Tax of your customers
Manage your office´s bank accounts and taxes
Plan and review the daily operations of your consultancy through a calendar
Assign different access permissions for each of the users according to the role they perform within the company
Monitor and modify the data entered by your customers in the system
Organise the documents, files, and records and share them with the rest of the team
Create tax templates in the official format and access them at all times
Keep track of incomplete payments and reduce defaults in your agency or office
Benchmark the evolution of the business and improve decision making
Take complete control of expenses and income to save costs
Prepare all kinds of legal reports and graphs in a simple way
Automatically send notifications and notices to your clients
Manage the contracts and working conditions of your employees
Most notable benefits of business consulting software
A specific software for advising firms and consultancies is a fundamental support in the administration of accounting tasks. Thanks to the implementation of this system you will be able to optimise the daily processes of your firm, by receiving the following benefits:
Keep your office´s and clients´ data completely protected
Improve workflows and organise tasks according to their priority
Reduce the occurrence of errors in tax filing
Simplify and streamline the management of legal and administrative procedures
Solve internal incidents to increase efficiency and productivity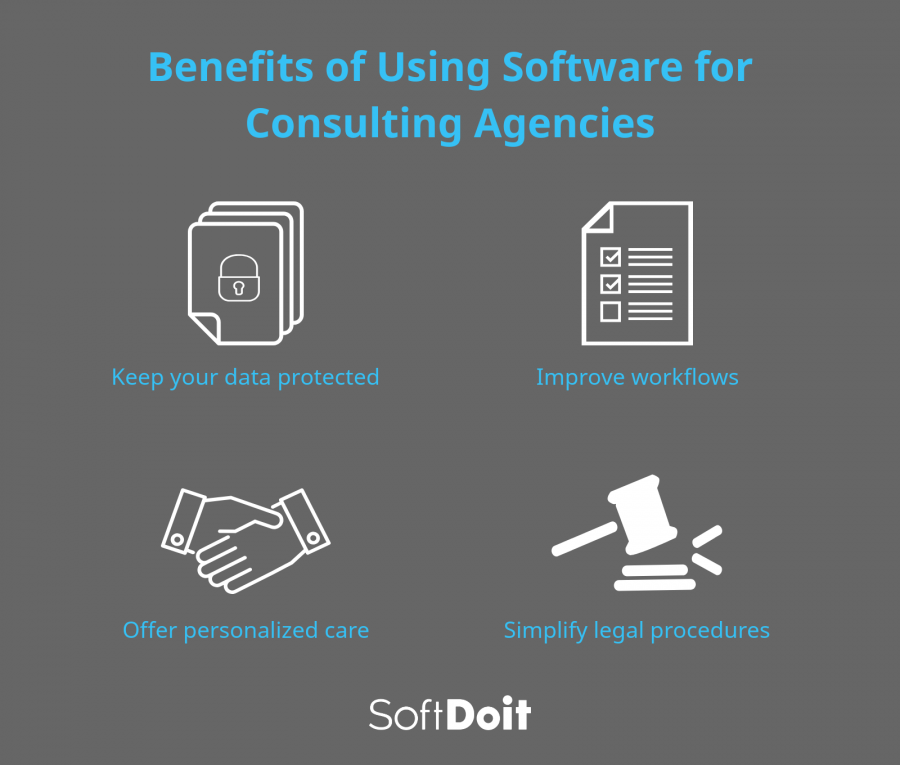 What aspects should you take into account to choose the most appropriate software for your agency?
If you want to be successful in selecting a consulting solution, it is really important that you find one that fits your business entirely. Therefore, before choosing a program for management agencies, it is essential that you consider the following factors:
The needs and the sector of your business
To begin with, when selecting a management system, it is essential to define the requirements and objectives of your firm. Also, it is crucial to choose a program that meets the specific requirements of your field of expertise.
The size of your firm
The scale of your firm and the volume of work influence your choice in a program. Depending on this, you will need to invest more or less in your new software. On the other hand, even if your business does not have many customers, it may evolve over time. Therefore, it is also advisable that you choose a flexible program that is able to adapt to changes in your firm.
The characteristics of your customers
As with your business, the volume and profile of your clients is also a determining factor when choosing a program. Depending on the type of clients of your firm, you will need a system that has certain features.
Find the best software for your agency for free
Thanks to a management consulting solution you will be able to streamline the procedures and operations of your office, so that you can offer a high-quality service to your clients. But as you can see, the choice of a program that meets your needs is not a quick or simple process.
For this reason, at SoftDoit we offer a software comparison to help you make the right decision, without wasting your time or money. If you want to discover in just two minutes which software best fits your agency or consultancy, answer the SoftDoit comparator questions.
We will analyse between more than 400 solutions in a completely neutral way, based on your preferences, to offer you a ranking as accurate as possible. At SoftDoit we have already helped over 35,000 professional firms to find the best management program. Request your free comparison and join them today!