Construction and renovation companies need to have tools that have the most advanced technology to manage projects more efficiently. If your business belongs to the construction sector, construction software will be very useful for you. With a program for construction companies you can manage your construction and renovation projects at every phase.

It is likely that you have started looking and have felt overwhelmed by the amount of solutions that exist in the market. To begin, you must know that to be able to select a software, it is essential to choose one that fits the profile of your company. However, finding a management tool that is 100% adapted to your business is more complicated than it seems. In addition, it can mean a waste of important time and money if you do not choose the right solution.
What is construction software?
A management system specially designed for construction companies provides essential support when managing all types of construction projects and installations. Amongst other things, this tool allows you to track, generate budgets and plan the resources available for each of the projects.
What are the functionalities of a management and planning construction software?
Software for the construction industry will allow you to manage all the departments of your company in a unified way and considerably reduce costs. Below we list the utilities that you will have with the implementation of a solution for the construction sector:
Calculate budgets automatically for each project
Constantly monitor the development of constructions, repairs, and installations
Supervise the projects in each of its stages to anticipate possible incidents
Define the real costs of production based on all the elements involved in the project
Automate all mechanical tasks to reduce manual operations
Integrate the management of all functional areas of the business in a single platform
Organize all contracts, documents, and plans in a more optimal way
Supervise the work to guarantee the quality of services offered
Discover how a solution for construction and renovation can help you
The reasons why you should deploy software for the construction sector are endless. First of all, a construction program is a great support in all daily tasks of your business. In addition, thanks to this tool you can offer a faster and higher quality service to your customers. With a management system your company will enjoy the following advantages:
Have all your projects under control to meet the established deadlines
Analyse the development of your business through financial indicators and scorecards
Simplify administrative tasks and issue invoices to your customers
Access relevant information to improve decision making
Assign different levels of access for each user, to ensure the security of the company's data
Modify projects and recalculate the necessary resources in a simple way
Manage production and labour processes more accurately
Unify the objectives and coordinate the actions of each of the departments
Reduce the working time allocated to all daily operations
Get the maximum benefit from the initial investment of the projects
Promote development and innovation to bring more value to the company
Improve the competitiveness of your business and retain customer loyalty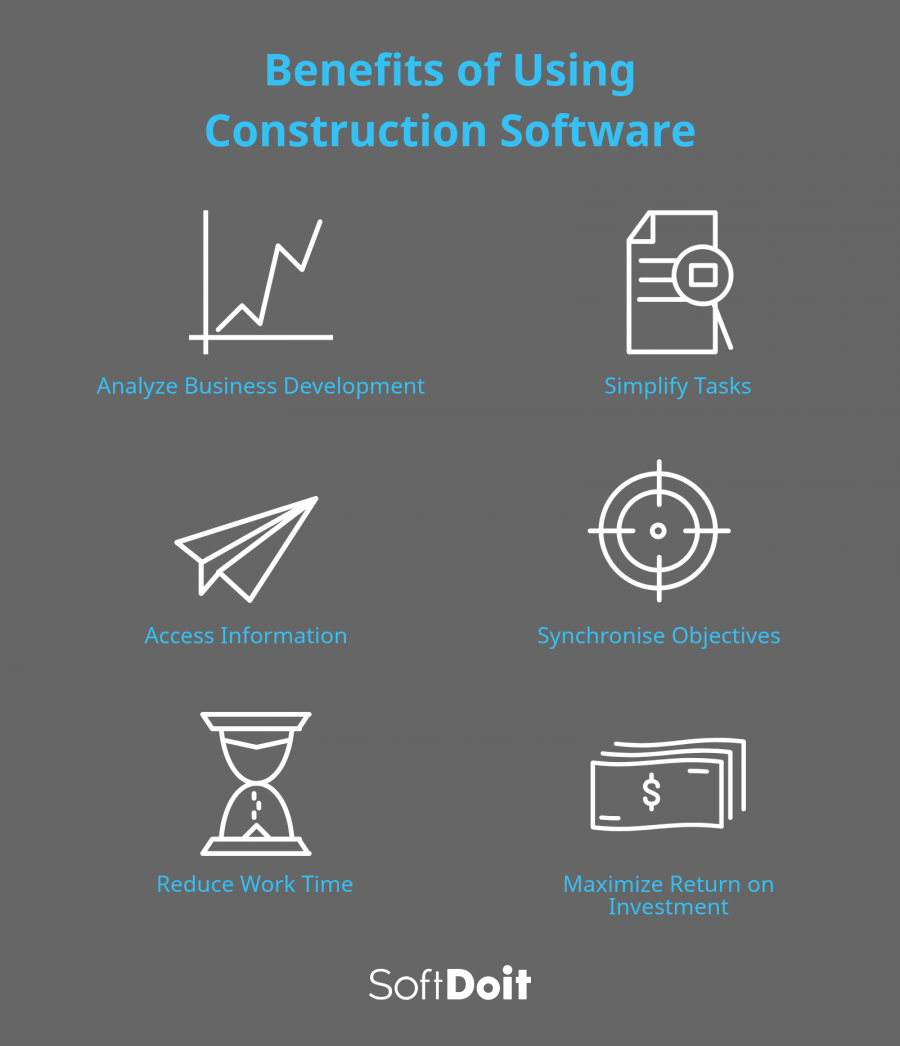 How to choose a construction software
There are a lot of management solutions specifically for construction companies on the market. Having a good program for construction services is a great competitive advantage over other companies in the sector. Therefore, if you want to choose a construction software correctly, it is essential that you consider these aspects:
Look for a specific solution for your sector
Although there are a variety of programs offered, it is crucial that you find a system specially designed for the construction sector. Generic software offers many features but does not have the specific functions that your construction business requires.
Know your needs
Before starting your search, it is very important that you identify the needs you want to cover with the software. In this way you can define what features your new program should provide.
Value usability
A software must be intuitive and easy to use so that the training of your team is fast. Employing a complex program will not do you any good and will mean a big waste of time and money.
Try different solutions
Another fundamental aspect when selecting a program for construction companies is to carry out software demonstrations. Most providers offer the chance to test their solutions completely free of charge. In this way, you can assess the accessibility, performance, and power of the system to make the best decision.
Compare and find out which is the most suitable management software for your construction company
With software for companies in the construction industry, you will be able to increase the revenue and manage all areas of your business in an integrated manner. If you want to find the program for services of works and repairs that covers the specific needs of your company, use our neutral and free comparator.
Answer the questions in the form on this page with the requirements and characteristics of your company, as well as your technical preferences. In a few minutes, you will receive an email with your personalized solutions ranking. It won´t cost you anything and you will make your business more profitable and efficient than ever!
Over 70% of the companies that have consulted our website have hired one of the programs recommended by the SoftDoit comparator. Don´t waste any more time and request your software comparison today, it's fast, neutral and free!